Hill Council, Leh, to formulate environment policy
District Advisory Committee on Environment constituted
By
Reach Ladakh Correspondent
Leh, Jan 10, 2020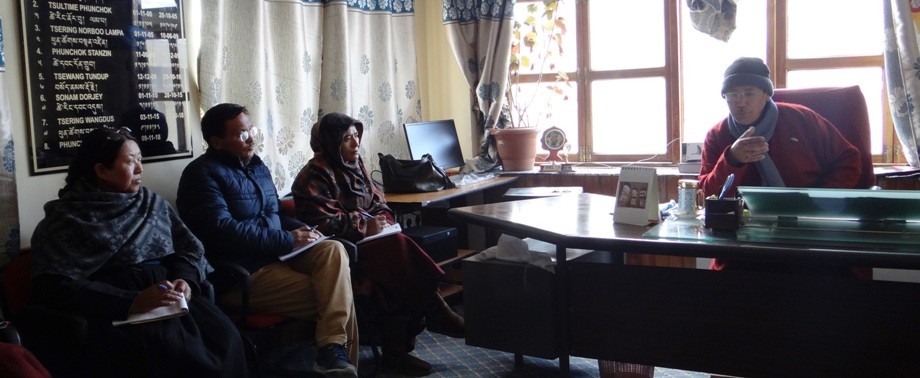 Leh :
A meeting to formulate an environment policy roadmap for Leh district was convened by District Advisory Committee on Environment on January 9 at Council Secretariat.
The District Advisory Committee on Environment was constituted in exercise of powers given to LAHDC, Leh under LAHDC, Leh's 2018 Amendment Act regarding Environment and its protection. The LAHDC Amendment Act under Chapter III, Section 23, Clause XXIII and Section 61 gives power to Hill Council to make regulations and policies on environment and ecology.
Phuntsog Stanzin, EC Agriculture & Environment informed that Hill Council Leh intends to design a comprehensive roadmap for Leh district to preserve and protect the fragile environment and ecology of Ladakh.
He said that a series of meetings will be convened in the coming days and if needed environmentalists, ecologists, experts and NGOs will be engaged by Hill Council, Leh.
Phuntsog Stanzin further directed concerned departments to submit their suggestions in writing by the next meeting.
Discussion on all the concern issues related with environment and ecology of Ladakh including constitution of Pollution Control Board/Committee in UT Ladakh, survey on groundwater, its use, contamination, registration of borewell and its regulation, design of septic tank in Leh to stop underground water contamination, proper use of surface water, check dams on all the streams of Ladakh for water management and conservation was carried out.
Also, the extension of Project Tsang-da in rural areas to solve waste management, survey on carrying capacity of Leh city and its planning, completion of sewerage treatment plant of Leh town, regulation on hotels, guest house, taxicab, labours in city and rural areas, regulation on army deployed in Ladakh, management of plastic waste, biomedical waste generated from hospitals and chemists, plantation, public transportation, shifting of butchers shops at one place in Leh city and many more were discussed.