Hill Council, Leh, settles Pangong land issue
By
Reach Ladakh Correspondent
Pangong, Aug 21, 2019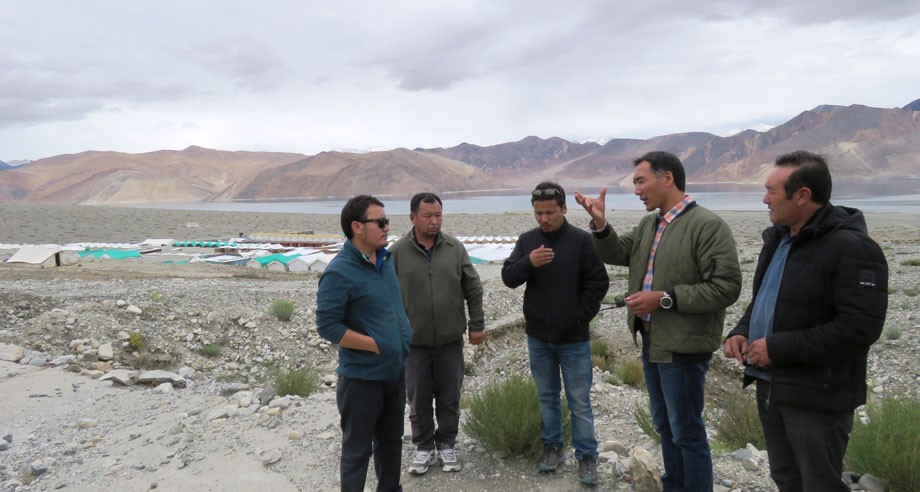 Pangong :
Hill Council, Leh amicably settled the two-year-old land dispute of Pangong lake area which started with the encroachment of the area by the locals and order of Supreme Court to remove illegal commercial units on the bank of Pangong Lake. 
n connection with Pangong rehabilitation, a meeting was held under the chairmanship of Gyal P Wangyal, CEC on August 9 at Council Secretariat.
As per the Hill Council decision, all those residents whose name was not included in the list of beneficiaries who received plot at either Lukung or Spangmik need to be verified by revenue department (New list provided by Sarpanch). Revenue department needs to identify sites in case required. The concern Sarpanch i.e, Maan- Pangong A&B shall be provided 5 Kanals of land each with the condition that they, must further lease out the land to resettle camps owners from Durbuk sub division whose camps were demolished during an anti-encroachment drive. The cancelled Nautor of Spangmik village may be changed into Abadi Deh as per the land revenue Act.
Further, the cancelled Nautor land available after changing into Abadi Deh shall be allotted back to respective villagers under the Nautor provision subject to fulfilling of all the condition under Nautor. The Revenue Department shall monitor for at least 3 years for compliance of condition under Nautor.
Tsering Sandup, Deputy Chairman, Konchok Stanzin, Executive Councillor, Rigzin Spalgon, SDM, and Tehsildar Durbuk visited Pangong area and apprised people about the decision taken by the Hill Council in the interest of the people.
Tsering Sandup thanked people of Pangong area for their cooperation and supporting the decision of Hill Council, Leh. 
Recalling the Pangong issue since 2017 followed by disputes and demolition drives, he said that present Council was always with people of Pangong area to protect their economic interest and to make newly allotted land more profitable to the people. 
He further informed that the Hill council is actively working on a master plan for Pangong which will be implemented very strictly to protect the sanctity of lake, its environment in an eco-friendly way.
 He also urged people to keep the surroundings of the lake neat and clean by taking an active role in the implementation of recently launched Project Tsang-da at Pangong. 
Konchok Stanzin who is also the area Councillor assured that the left out families whose name was not included in the list of beneficiaries will also get their due share. He also assured people for proper allotment of land gradually to the individuals so that they can avail loans and other benefits against the land. 
He said that earlier all the tourist camps and other business units were illegal but now with the allotment of land following Wildlife Act people can run their units legally. He urged people to complete all the paper works in the coming winter months so that they can operate their business in next season officially and in an organised way. 
He further assured every possible intervention from Hill Council in providing basic services like drinking water and electricity in an eco-friendly manner.  
Later, Deputy Chairman and Executive Councillor visited Project Tsang-da Centre at Pangong, inspected newly built medical sub-centre of Spangmik and Primary Health Centre, Tangtse.
At Residential Higher Secondary School Tharuk they assessed the hostel dining hall and other buildings which were damaged due to incessant rain. They asked SDM Tangtse to submit a detail damage report of the school to the Council and assured for detail estimation of the damaged building from concerned engineering wing for the speedy repair of the school building.
Executive Councillors; Chering Dorjay, Former MLC; Sachin Kumar, DC, Leh were also  present.