Hill Council Leh plans action policy for Sowa-Rigpa system
By
Reach Ladakh Correspondent
Leh, Feb 20, 2019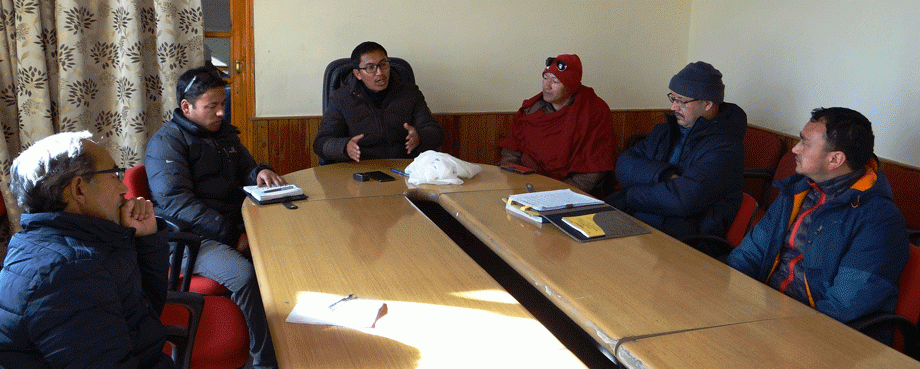 Leh :
To develop Sowa Rigpa Amchi System in Ladakh, Hill Council Leh expresses keen to formulate an action policy plan during a meeting on February 17.
Jamyang Tsering Namgyal, CEC said that traditional Amchi system of Himalayan region is a valuable treasure for Ladakh and Hill Council is committed to developing this ancient system in an organised way. To do so, an inclusive action policy will be formulated and urged upon Leh based traditional medical institute and Amchies to give their valuable suggestions and feedbacks.
He further added that Hill Council Leh is keen to add Sowa-Rigpa sector under the portfolio of an Executive Councilor LAHDC, Leh in days to come. 
While discussing various issues, demands and the problem of Leh based institutes and Amchies, it was decided to pursue different genuine demands with concerned ministry at GoI level and with Governor Jammu, Kashmir, and Ladakh state shortly. 
Issues and demands highlighted were creation of  24 posts of Amchi and Pharmacist in Leh district at par with Ayurvedic and Unani doctors in SNM Hospital Leh and other Primary Health Centers of Leh, relaxation in the amendment of J&K Ayurvedic, Unani, Sowa-Rigpa (Amchi) System of Medicine Act 1959 and 2017 as per which traditional trained Amchi required 10 year experience in Amchi medicine practice with matriculation for registration and practice, enhancement in the Stipend  of  Amchies which is stand still at ₹300 since many decades, up-gradation of Chief Amchi post at the level of CMO and creation of 22 Medical Officers posts to regulate Sowa-Rigpa system in the Jammu, Kashmir and Ladakh state. 
Also, future requirements of the education and research institutes like NRIS Leh, CIBS, Choglamsar Leh and SNM Hospital for strengthening of Sowa-Rigpa system in Ladakh was discussed.
Dr. Padma Gurmet, Chief officer, NRIS Leh informed that as per the Gazette of GoI Ministry of Ayurveda and Homeopathy 2018 and Central Council of  Indian Medicine Act, 1970, the degree holders in Sowa Rigpa Amchi System from four institutes of India including CIBS (Deemed University) Choglamsar Leh, Men-Tsee-Khang College Dharamshala (HP), Central University of Tibetan Studies, Sarnath Varanasi (UP) and Chagpori Tibetan Medical Institute, Darjeeling ( West Bengal ) are also recognized for registration, practice and eligible for posts equivalent to Ayurvedic and Unani doctors under NHM. He said that there is a good number of such degree holders in Ladakh.  
The meeting decided to sit monthly under the chairmanship of Executive Councillor for Heath to devise the action policy plan.