Hill Council, Leh opens new sabzi mandi for local farmers
Aims to promote local vegetable and fruits production at reasonable prices
By
Reach Ladakh Correspondent
Leh, Aug 31, 2019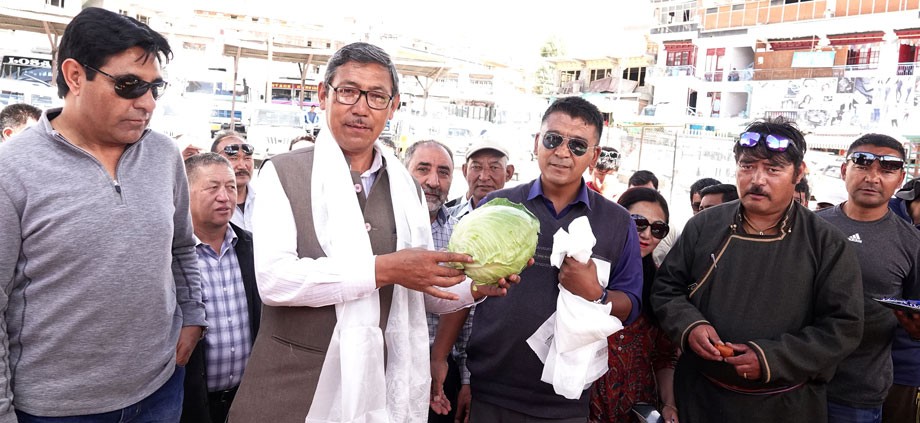 Leh :
A specified local vegetable market (Sabzi Mandi) for the farmers from different rural to sell their agro-produces was inaugurated by Phuntsog Stanzin, EC Agriculture on August 29 near new bus stand.
The market aims to promote local vegetable and fruits production and to ensure reasonable prices.
Farmers from different rural areas attended the opening function and sold varieties of vegetables and fruits many of which were purely organic.
Phuntsog Stanzin said that this initiative is a step forward towards organic farming in Ladakh, as LAHDC is already in the process of bringing a revolutionary change in the agriculture sector through organic farming.
He urged upon the farmers to grow cash-oriented vegetables with maximum varieties and said that LAHDC will put its all efforts to create marketing facility. 
To ensure equal marketing opportunity for all the farmers of different areas near and far, Phuntsog Stanzin urged to devise a village wise selling roster allotting specific dates for each village. Also, a committee will be formed to keep a close monitor to make the system effective.
He further appealed farmers to extend utmost cooperation at the initial stage which will benefit every farmer with huge income in future. 
The farmers appreciated the visionary initiative of Hill Council and demanded to provide a godown for the farmers who can keep their left out-produces during night time.