Hill Council, Leh discusses future plan with Umang Narula, Advisor, L-G, Ladakh
By
Reach Ladakh Correspondent
Leh, Nov 05, 2019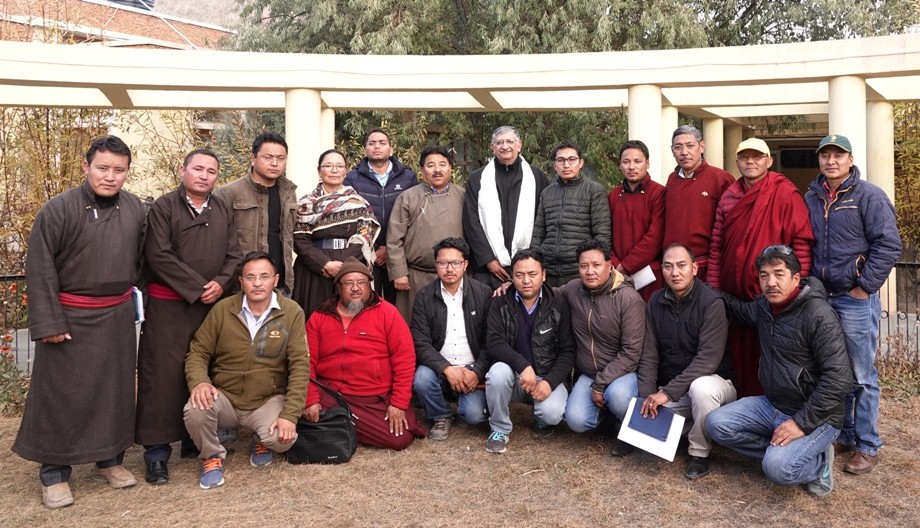 Leh :
The Hill Council, Leh hosted a high tea to Umang Narula the newly appointed Advisor to Lt. Governor of UT Ladakh on November 4 at Council Secretariat.
Umang Narula said that since the inception of Ladakh Autonomous Hill Development Council, both the districts have witnessed many positive changes. He said much more required to be done, now the power has come closer and the decision-making process will be faster; fulfillment of development aspiration of the people will be easily possible. He said that having a developmental vision is critically important and challenges are also there in achieving the goals. Narula assured to resolve all issues by taking everyone together. He expressed hope that his work experiences would be useful in solving the local issues. 
He also stressed on the need of a well-thought formulation of next financial year's plan for Ladakh and also expressed intend of UT Govt. to start its secretariat immediately.
Gyal.P Wangyal, CEC Leh welcomed Umang Narula and expressed fortunate to have Narula who has already served Jammu and Kashmir as Principal Secretary to Governor before.
Briefing about the structure and functions of Hill Council Leh, Gyal.P Wangyal stressed on developing a clear business rule between LG Office and Hill Council, Leh, so that all the developmental works could be carried out smoothly and cordially. He also talked about the need of amendment in the Council Act on some key issues and sought Governor's intervention with Central Govt.
Gyal.P Wangyal also apprised about the shortage of manpower at key departments like Rural and PWD and sought his intervention in filling up of these posts at the earliest. 
He also explained about the power issues being faced by Leh district during the winter months and sought his intervention in resolving the issue before the onset of winter. 
 
Jamyang Tsering Namgyal, MP Ladakh welcomed Advisor Umang Narula and congratulated for assuming his office. Jamyang said that it is very important to give a good shape to UT Ladakh at the beginning which will turn out to be a roadmap to take UT Ladakh on the path of development with a clear vision.
He stressed on taking visionary steps to bring reforms in sectors like education, health, local economy and infrastructure and the strength and role of Autonomous Hill Development Councils of both the districts in plan formulation should remain vital as it was.
Tsering Sandup, Deputy Chairman raised the issue of shortages of doctor especially medical officers in the district. He suggested devising of incentives/ allowance for doctors to be posted in remote areas. 
Konchok Stanzin, EC Education raised the issue of adjustment of Assistant Professors serving in different parts of UT J&K who have opted to serve in UT Ladakh and salary issues of teachers working under SSA, RAMSA and ReTs. 
Phuntosg Stanzin, EC Agriculture also requested for creating the posts of Directors of Agriculture and Command Area for Ladakh.
Mumtaz Hussain, EC Minority Affairs; Sachin Kumar Vaishya, Deputy Commissioner LAHDC, Leh and other councillors were present.