Hill Council discusses telecommunication problems with CGM, BSNL
Call to provide internet facility for Smart Classes
By
Reach Ladakh Correspondent
LEH, Nov 20, 2018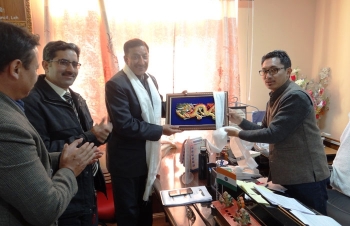 LEH :
To review telecommunication problems in the region, Jamyang Tsering Namgyal, CEC convened a meeting with A. K Singh Rana, Chief General Manager, BSNL, J&K Circle Leh on November 17.
Talking about the importance of reliable communication facilities in today's era of Digital India, Jamyang Tsering Namgyal said that due to poor internet facilities Hill Council Leh is unable to run a number of smart classes in the Govt. schools of the district despite having all the equipment. Also, important procedures like e-tendering, geo-tagging of asset and CSS like recently launched Ayushman Bharat National Health Protection Schemes are badly affected.
He urged CGM to find a quick solution for all the far-flung and isolated villages of Leh which are deprived of telecommunication facilities including border areas of Changthang, Singay Lalok, Sku-Markha, Turtuk, and Diggar Tangyar at the earliest. Also, he highlighted major telecommunication related problems like frequent breakdown of main OFC, poor or no internet/data service in BSNL towers, requirement of DSPTs/Mobile towers for uncovered villages and hamlets, non–availability of broadband service in the rural areas, one year tenure and acute shortage of a staff in BSNL Ladakh and earliest approval of ₹ 350 crore project already submitted at DOT for USO funding and 28 mobile towers in Ladakh under the Ministry of Home Affairs at Indo-China borders.
Gyal P. Wangyal, Dy. Chairman Hill Council, Leh requested for restoration of landline facilities in Kharu sub–division and complained no mobile network in Sakti –Tagar and a portion of Kharu village.
Tsering Sandup, EC Health highlighted the communication problems of Nubra region including an acute shortage of staff in BSNL Nubra, strengthening of main BSNL tower at Diskit by identifying separate location, additional full-fledged towers at Hunder, Sumoor and Diskit keeping in the immense potential of tourism in these villages and enabling all the towers in Nubra with 3G and 4G facilities.
Phunchok Stanzin, EC Agriculture also demanded USO funding for installation of mobile towers in left out villages and relocation of few towers in Sham region.
Similarly, Mumtaz Hussain, EC Minority Affairs demanded the restoration of landline facilities in Chuchot which was damaged in the 2010 flash flood. He also complained about the poor mobile signal at PHC and Higher Secondary School in the Chuchot belt.
A K Singh Rana, Chief General Manager, BSNL, J&K Circle Leh and his team will conduct a case study of all the demands and assured to address all problems. He also asked Hill Council to provide a list of schools equipped with smart class equipment and assured to provide internet facilities to such schools on priority.
Punchok Dorjey, General Manager, BSNL Leh informed about the upcoming projects and schemes of BSNL for Ladakh including the revival of Community Service Centers, providing of V. Sat facilities for all the Gram Panchayats of Leh district and launching of wireless broadband facilities in the district.