HE Khamdrak Trulku Jigme celebrates 31st birthday in Liktsey
By
Reach Ladakh Correspondent
LIKTSEY, Nov 29, 2018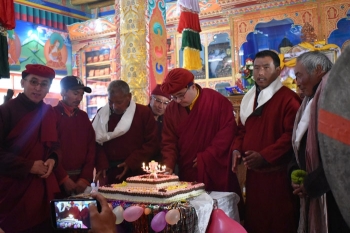 LIKTSEY :
After completing education from Darjeeling, His Eminence Khamdrak Trulku , Jigmet Nawang Namgyal Rinpoche celebrated his 31st Birth Anniversary on November 16 at Urgain Deachen Ling Monastery, Liktsey.
It was organised by Liktsey village in collaboration with Chetsogs Phanday Tsogspa youth wing.
His Eminence also consecrated the prayer wheel (Maney Tungchur), followed by Riwo Sangchod (The mountain of Smoke offering), and Tsog offering.
While interacting with the people, His Eminence encouraged people to abstain from all the ill which are against the basic values and principle of Buddhism.
Thinles Gurmet, President, Chitsogs Phanday Tsogspa expressed his gratitude to His Eminence and the people to be a part of the celebration.
Sonam Lundup, Nambardar, Tukla village also expressed his gratitude and quoted examples of the unity of Tukla, Liktsey, and Fulak villages.
He said that it is a great occasion for the people of Rong Changthang to seek the blessings of his Eminence.
A cultural programme was organised by the Women Associations of the Liktsey, Tukla, and Fulak. Students of Govt High School Liktsey also presented a song and dance in honour of His Eminence.
Dorjey Motup, Former CEC, LAHDC, Leh, His Eminence parents, Nambardar of three villages Liktsey, Tukla and Fulak were also present.