HCHF organises a daylong seminar held in Leh
By
Reach Ladakh Correspondent
SABOO, Nov 16, 2018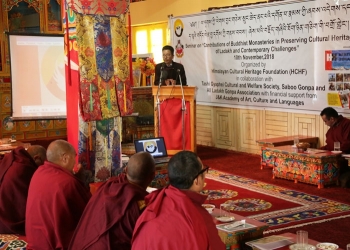 SABOO :
A seminar on "Contribution of Buddhist Monasteries in Preserving Cultural Heritage of Ladakh and Contemporary Challenges" was held on November 10 at Kunrik Lhakhang, Saboo Gonpa.
The daylong seminar was organised by Himalayan Cultural Heritage Foundation (HCHF) in collaboration with All Ladakh Gonpa Association and Tashi Gyaphel Gonpa Saboo.
Tsewang Thinles, President, LBA was the chief guest of the inaugural session and Dr.Thupstan Nurboo, Assistant Editor, J&K Academy of Art, Culture and Language Leh and Ven. Rigzin Dorjay, Cashier, All Ladakh Gonpa Association were guest of honour.
Tsewang Thinles said that the monasteries have been a centre for Buddhist learning and the monks had always been the teachers of the lay people who guided them according to the Buddha's teaching.
"Leh people always look at monks for teaching and guidance and it is very important that monks and monasteries should set a good example of unity and peace through wisdom and compassion," said Thinles.
Dr. Thupstan Nurboo spoke on the importance and relevance of the seminar.
Prof. Geshe Konchok Wangdu, President HCHF, and Director, CIBS spoke on the role of monks and monasteries in today's society.
Dr. Sonam Wangchok, Founder/secretary HCHF in his opening remarks highlighted the important roles of monasteries in safeguarding the rich cultural heritage of the Himalayas for centuries.
"From its inception, the monasteries have not only been a centre of learning for Buddhist philosophy, history, literature, and language, but also a sanctuary for learning many Buddhist art and crafts such as paintings, wood carvings, printings of sacred manuscripts, calligraphy, sculpture making and so on. However, in recent time sudden changes and challenges have been witnessed in monasteries which have become a cause concern for the monasteries and for the survival of monastic art, crafts, and rituals. In view of above, we propose to hold a seminar to bring out both good and adverse impacts of modernization on traditional cultural values, especially in the Buddhist monasteries of Ladakh", said Dr. Sonam Wangchok.
Papers on different aspects of contributions of monasteries in preserving the cultural heritage of Ladakh and contemporary challenges were read by eminent scholars including Ven. Thupstan Paldan, Sanjay Dhar (painting conservator), Tsutrim Gyatso, Tsering Nurboo Martse, Tsewang Dorjay Dongbos, and Ven. Sangyas Tsering.
Ven. Gonbo Dorjey wished that the result of the seminar will help in strengthening and reviving the monastic art and crafts, customs, rituals, festivals, philosophical studies and so on.
The seminar was financially supported by the J&K Academy of Art, Culture, and Languages.