Gyal P Wangyal visits Sakti
Assures timely completion of all the ongoing projects
By
Reach Ladakh Correspondent
Leh, Jul 15, 2019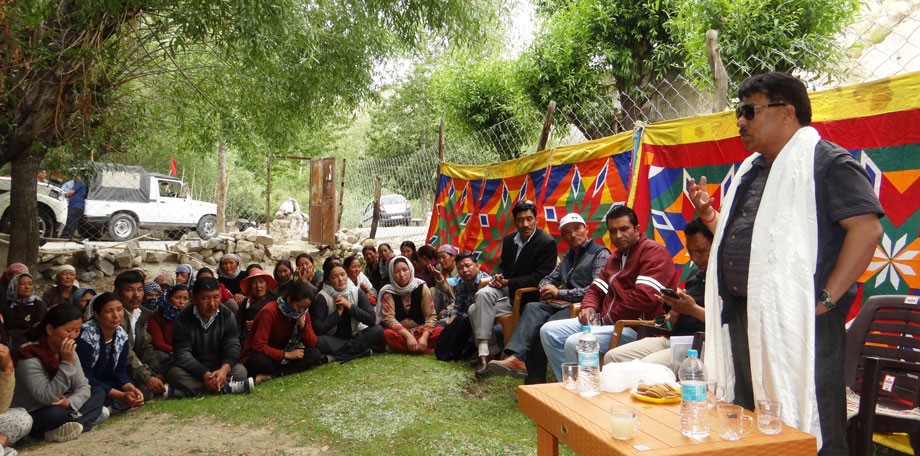 Leh :
 Gyal P Wangyal, CEC made an extensive tour of Sakti constituency and reviewed ongoing developmental activities in the Chem-Sak area on July 13.
Gyal P Wangyal expressed his heartfelt gratitude to the people of Chem-Sak area who elected him from Sakti constituency for three consecutive tenure since 2005. He said that without their support he could not have reached to the highest post of Leh district. 
Talking about some major upcoming projects in Sakti area, he informed that a DPR of ₹2.5 crore each are stand submitted under Pradhan Mantri Krishi Sinchai Yojna (PMKSY) for water diversion from Wari-la and Chang-la for Sakti constituency. 
Training of Sakti Nallah from Taknak to Kharu at ₹ 8 crore projects is also stand submitted under NABARD and ₹ 1.28 crore playground /stadium at Kharu –Dho under languishing project is sanctioned and at the tendering stage. He also assured for early survey of Sakti-Tagar drinking water supply scheme and urged people to cooperate with survey team.
He directed concerned officials of Rural Development Department Kharu for the earliest restoration of all the headworks of all the irrigation canals from Taknak to Kharu. 
He urged people specially Sarpanch, Gobas and Panches to actively participate in the ongoing developmental works.
Nassir Husain, Executive Engineer Construction and concerned engineers were directed to complete links roads of Kharu and Sakti-Sharnos in coming months. Also, he urged people to resolve all the land disputes at village level.
At Chemday monastery, Gyal P Wangyal also assured to fulfill their genuine demands priority wise. PDD Leh was directed to make the already installed streetlight at Chemday Gonpa functional at the earliest.