Gyal P Wangyal tours Phyang, Hipti, Tar, and Skindiyang villages
By
Reach Ladakh Correspondent
Leh, Jul 26, 2019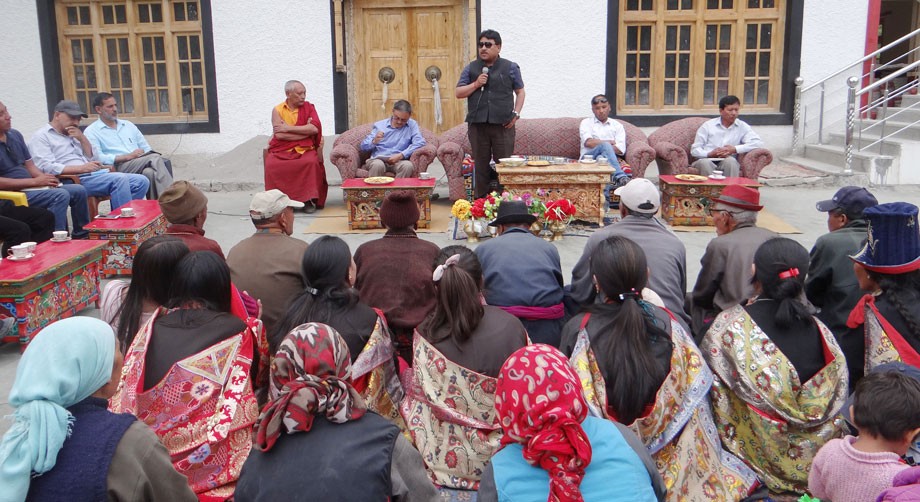 Leh :
Gyal P Wangyal, CEC interacted with the people of Phyang, Hipti, Tar and Skindiyang villages on July 25. 
Lobzang Sherab, Councillor Khaltse, Executive Engineers of R&B, PDD, PHE, BDO Rural Development and concerned officials were present.
After noting all the demands and grievances of the people in Phyang, Gyal P Wangyal directed concerned departments to complete all the work before July 28.
He gave directions to various departments including Executive Engineers of  PDD and PHE to install a transformer and temporary street light and drinking water facilities, respectively.
 
Also, the Rural Development Department was asked for temporary toilet facilities, R&B department for the completion of ongoing work of blacktopping of the road from Photang to the main road.
The villagers of both Hipti and Tar requested CEC for completion of the road from Gera to Hipti. CEC directed early completion of the rough-surfaced road length of Hipti-doh.   An amount of ₹50 lakh was spent till date from ₹ 4.5 crores which was sanctioned for the 12 km stretched road.
About electricity supply, Executive Engineer of PDD updated CEC that electrification is being done under DDUGJY and the lying of wires will be completed by September this year. The electrification up to Hipti village will be completed by the end of this month.
At Skindiyang, CEC reviewed the work progress related to the upcoming summer teaching and inauguration of newly built Photong by His Holiness Chetsang Rinpochey from 13th to 16th August. 
He expressed gratitude to the people of Skindiyang village for the grand reception and gave assurance to extend full support in the conduct of the summer teaching. He directed the concerned departments to ensure facilities like power supply, drinking water, medical service, temporary toilets and completion of black topping of roads. 
He also instructed FS&CA Department to provide ration for the summer teaching to the monastery.
CEC said that he he'll try to put the project of link road from Skindiyang to Lama Guru from district plan under languishing to meet up its cost expenditure and timely completion.