Gyal P Wangyal inaugurates children library in Spituk
By
Reach Ladakh Correspondent
Leh, Jul 13, 2019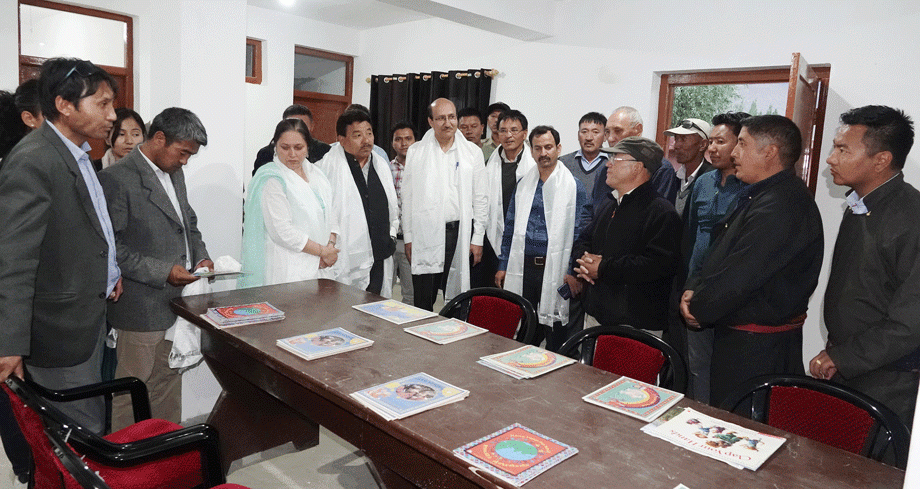 Leh :
Children Library at Primary School (Thugui lDumra) Spituk created under Rurban Mission was inaugurated by Gyal P Wangyal, CEC on July 8.
Gyal P Wangyal greeted people of Spituk and Choglamsar on coming up of some important projects in their area under Rurban Mission and sought peoples cooperation in taking care of all these public assets.
Installation of street lights from Spituk to Choglamsar along the newly constructed road would add beautification to the area, CEC said and added that proposed Amusement park would be of great attraction for all and to ensure its early completion, Gyal Wangyal urged Secretary RDD for release of fund immediately.
Gyal mentioned that the pasteurization plant at Agling is all set to function within days and it would help in value addition of dairy products of the local farmers. CEC said that Hill Council, Leh is fully committed for the overall development of the people and urged to inform Council about their problems so that timely attention is given to address them. 
Mentioning creation of a number of projects such as community hall, libraries, CAPD stores, link roads, street lights and parks in Spituk cluster under Rurban Mission, Sheetal Nanda, Secretary to Govt. Rural Development Department urged upon the local people to own these assets and take care of maintenance.
She assured to provide sufficient fund for completion of all the projected works. She also instructed ACD, Leh to expand the seating capacity in the Library at least 30-40 students.
Phuntsog Dorjey, Councilor said that Rurban Mission is playing a key role in the infrastructural development in Spituk and Choglamsar area.  Arhat Community Hall in Spituk, link roads, street lights, waste management centre and Amusement Park in Choglamsar are some of the important components of this mission. 
He mentioned the success story of project Tsangda at Choglamsar which came up as a revolutionary project for cleaning Ladakh. He requested Secretary RDD for early release of funds for the completion of Amusement park.
Later, Sheetal Nanda inaugurated the newly installed street lights of Forest Bagh Choglamsar to Palam bridge. The lights were installed under Rurban Mission at a cost of ₹52 lakh.