Gyal P. Wangyal, CEC visits Sakti Constituency
By
Reach Ladakh Correspondent
Leh, Nov 08, 2019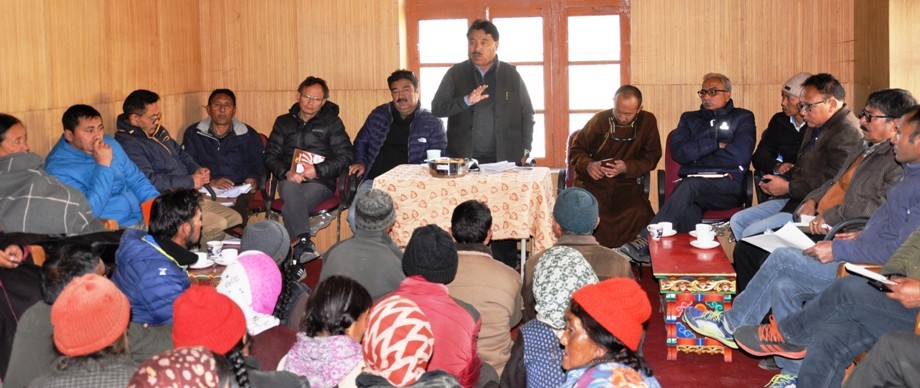 Leh :
Gyal P. Wangyal, CEC on his one-day extensive tour to Sakti constituency visited Kharu, Thakthok Gonpa, Taknak-Sakti, Taggar-Sakti, Chemday and Chemday Gonpa on November 7. 
During his visit to Kharu village, Gyal.P Wangyal inspected Medical Aids Center, Primary schools and ICDS Center. The villagers of Kharu submitted a memorandum, demanded to widen of the link road, construction of community hall at Kharu market, piped water supply and sanctioning of a veterinary hospital in the village.
 
Gyal.P Wangyal assured people that all the minor and major concerns will be fulfilled gradually as there will be no shortage of funds in UT Ladakh. He said that now people can expect speedy redress of their grievances.
 
For community hall at Kharu market, he directed the concerned department to prepare detail estimation. He also directed Executive Engineer PHE to complete the remaining water supply connection and committed to start the supply of water from next season. He further directed to Soil conservation department to complete remaining chain link fencing of pasture land of Kharu village at the earliest.
 
During his visit of Council Model School (CMS) Sakti, the school faculty demanded two general line teacher, flash toilet, kitchen for mid-day meal purpose and chain link for the school compound wall, on which Gyal.P Wangyal directed CEO, Leh to provide required teaching staff.
He appreciated the teaching staff for their efforts in increasing enrollment in the school and said that Hill Council, Leh is committed to facilitating every Council Model Schools to improve education in the district.
 
At Taknak, Sarpanch Sakti Halqa demanded Medical Aid Center, resurfacing of Nala-Tukchu road, construction of link road from Bakdhur house to Gonpa and Tukchu to Zingyok, blacktopping of Kangkar to Hr. Sec School road and also demanded Rural Dev. Department to release the liabilities of 2014-15 and complete the remaining work under MG NREGA.
 
Sarpanch also requested for marketing facility for peas and provide machinery tools at a subsidized rate and replacement of remaining wooden electric poles, installation of transformer and provision of poles for the new connection. Cattle feed, Bull at Animal Centre and mobile van were also demanded by the Sarpanch.
 
The villagers further demanded a skill development programme during winter to the unemployed youth under Sheep Husbandry scheme.
 
Gyal.P Wangyal directed the head of the concerned department to prepare a detailed project report. He also directed the Agriculture Officer to distribute the required quantity of seeds to the villagers. 
He assured to work tirelessly as Councilor of the area to fulfill the developmental aspiration of the people of Sakti Constituency.
 
During his tour to Taggar village, people demanded the construction of community hall, fund for additional room at Zingral, replacement of electric pole, installation of transformer, repair of the main road, early completion of the link road, shifting of medical aids center, installation of the mobile tower and many more.
Gyal.P Wangyal also assured the people of Taggar village to fulfill their demands.
 
At Chemday village, Sarpanch Halqa demanded the construction of a community hall, installation of two transformers at Ardong and Thang-manla, water hand pump, teaching staff at middle school, supply of sufficient medicine at Medical Aids Center etc.
 
Gyal.P Wangyal responded a spot direction to the heads of concern department and assured to complete all the public demands at the earliest. He instructed Executive Engineer,PDD to shift the electric poles which are coming in the people's crop fields. 
 
At Chemday Monastery, head Lama demanded to repair of water reservoir and extension of parking space. 
He also assured the monastery representative to solve their issues and also directed to the concern officers.
 
Gyal.P Wangyal expressed gratitude to all the district officers for their constant support, coordination and hard work for successful implementation of all the projects in time. He further stressed for prompt implementation of the remaining projects.