First winter kisan mela cum exhibition held in Leh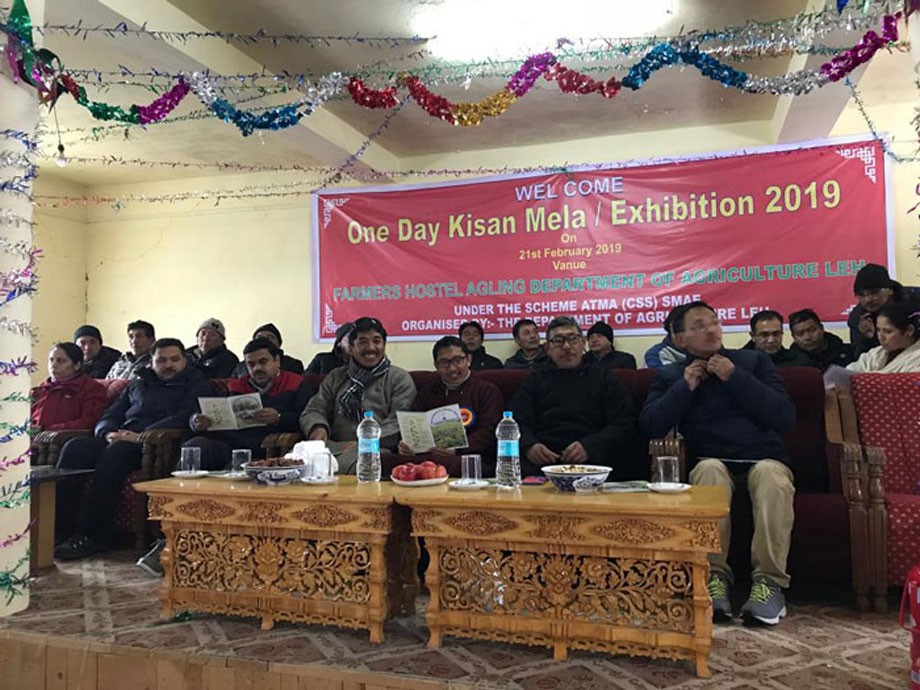 With an aim to revive the traditional crops, the first ever winter Kisan Mela cum exhibition was held on February 21 at Farmers Hostel, Agling.
The fest was organised by District Agriculture Office Leh under the scheme ATMA (CSS) SMAE 2018-19.
Farmers of Leh district exhibited their greenhouse-grown vegetables and perennial potted flowers. DIHAR, CAZIRI, and KVK also had their stalls for demonstration. 
Inaugurating the exhibition, Jamyang Tsering Namgyal, CEC appreciated the department and associated research stations for organising the Kisan mela in winter to make people aware that vegetables can be grown in this season also.
Recollecting the old methods of farming he said, "Earlier everything was fabricated locally, people were not dependent on the outside products and were self-sustained. Now with the tremendous development and lack of poor management we are depended on the goods bought from other places neglecting our own goods".
"LAHDC will be come up with various methods and implementations in the agriculture sector and people can sell local vegetables through Cooperative societies. The local product will have values in the market as the local government will not allow the vegetables which are bought in from other places", he added.
He further stressed on the need for age-old sustainable agricultural practice. Villages with minimal use of chemical fertilizers will be made fully organic by 2021, and the rest of the villages with high or more usage of chemical fertilizers will be transformed into sustainable farming method thus making Ladakh fully organic by the year 2024. 
Phuntsog Stanzin, Executive Councillor, Agriculture said, "We have been working on making amendments in the agriculture sector for positive changes. The machinery for packaging is now available with the department. The packing of local products can be done and sold in the market which will boost the economic sector of the local farmers". 
He also spoke about the launching of local rajma as a souvenir 'Ladakhi Rajma' in the next month. 
Tashi Tsetan, Chief Agriculture Officer Leh spoke about the sufficient stock of seeds and plans for uniform distribution. 
He also informed about the successful trial of flori-culture at Thiksay farm and reduction in procurement of chemical fertilizers. Also, the new machine introduced by the department and PM Soil Health Card.
 'Best Farmer' awards to 10 farmers of different blocks with a cash prize of ₹10,000 and certificates were distributed under ATMA scheme. 
Dr. Srivastava, Director DIHAR, Dr. Harpreet Kaur, District Forest Officer Leh,  Dr. Mohd. Iqbal, Chief Animal Husbandry Officer, Tashi Tsetan, Chief Agriculture Officer Leh, Thinley Dawa, Assistant Soil Chemist Agriculture officers and officials of Agriculture Department Leh, and large numbers of farmers of Leh district were present.