First Council meet of University of Ladakh held in Leh
Aims at making the university a high- standard institution
By
Reach Ladakh Correspondent
Leh, Feb 01, 2020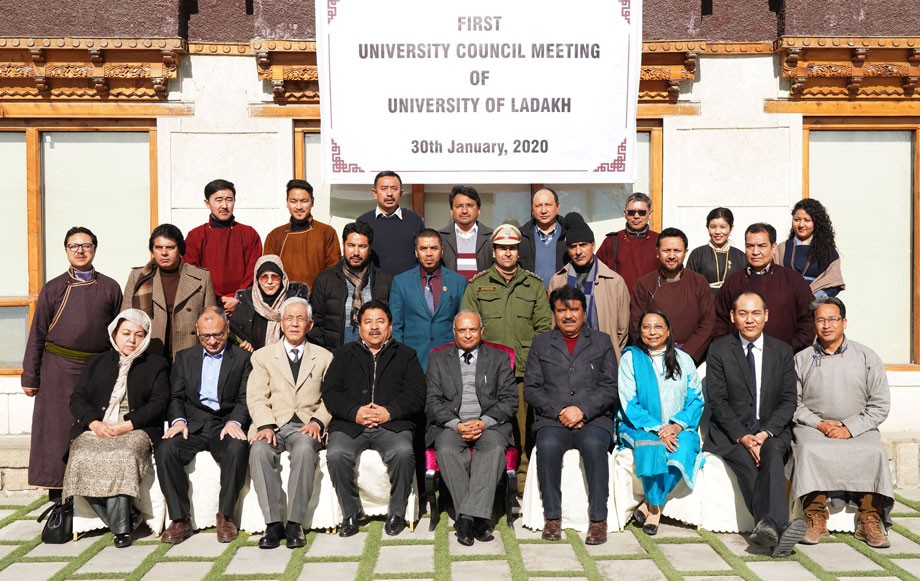 Leh :
The first University council meeting of Ladakh University was convened by Radha Krishna Mathur, Lieutenant Governor and C. Phunsog, Vice-Chancellor of the University of Ladakh (UoL) on January 30.
Radha Krishna Mathur said that our effort should centre towards gaining the highest standards in education and curriculum of the University of Ladakh. He further stressed to ensure flexibility in the credit system facilitating students to register for courses of their choice and alter it within the academic course. 
The orientation of research and development among students to promote a process of producing researchers, and innovators is yet another important aspect, he added. 
R K Mathur appreciated having C. Phunsog IAS (Retd.) as the first Vice-Chancellor of the University of Ladakh.
The university council decided to take up the matter of delay in passing out of batches for the years 2015, 16 and timely passing out of 2017, 18, and 19 batches with the University of Kashmir.
Feroz Ahmed Khan, CEC, Kargil requested the university council to conduct the next University Council meeting in Kargil.
C. Phuntsog, VC, University of Ladakh gave a brief account of the inception of higher educational institutions in Ladakh from 1889 till the creation of the University of Ladakh in 2018. 
The meeting deliberated on various issues viz approval of 'Statutes and Regulations' of the University of Ladakh, budget estimates, building infrastructure, post creation, personnel recruitment, and matters of constituent colleges. 
The Council emphasized on the building of winter-ready hostels and college buildings as well as administrative offices. The decision was also taken regarding improvements in the existing degree colleges like maintenance of buildings, making them winter-ready and the faculty in these colleges.
Imteaz Kacho, Registrar, University of Ladakh; Deskyong Namgyal, Controller of Examinations/Dean, Academic Affairs; Prof. Anju Bhasin, Vice-Chancellor Cluster University, Jammu; Professor, Sheikh Javed Ahmad, Vice-Chancellor Cluster University Srinagar; Rigzin Samphel; Commissioner Secretary/ Educational/Financial Advisor University of Ladakh; Kaneez Fatima, Former Joint Commissioner, Navodaya Vidyalaya Samiti, GoI, Ministry of Human Resource Development; Sonam Wangchuk, Founder, Himalayan Institute of Alternatives (HIAL), Ladakh; Rectors of the Satellite Campus of University of Kashmir, Leh and Kargil and the principals of the Govt. Degree colleges were present.