Exhibition on Ladakhi proverbs held at EJM College
By
Reach Ladakh Correspondent
LEH, Oct 30, 2018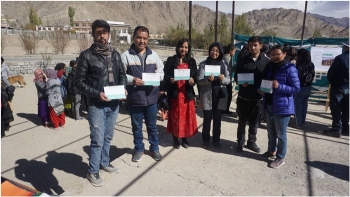 LEH :
A group of young entrepreneurs, 'Let's Make Sense' exhibited Ladakhi proverbs that are part of our folk culture on October 25 at Eliezer Joldan Memorial College.
The trio entrepreneurs, Tushita Pandey, Stanzin Paljor and Rinchen Angchok attempted their first exhibition on the intangible heritage of Ladakh.
Deskyong Namgail, Principal, EJM college inaugurated the exhibition and released a monograph of the exhibition namely 'Words That Matter'.
Talking about neglecting heritage with time, he said that ancient proverbs are genuine experiences that are expressed in creative phrases from generation to generation.
He appreciated the efforts of the students who came up with the idea and urged students to learn from such efforts and experiences.
Tushita Pandey, Curator along with the exhibitors Stanzin Paljor and Rinchen Angchok expresses gratitude to the principal, college faculty and staff for their utmost support and suggestions for improvement.
Also, Tundup Dorjey, Proprietor, Overland Escape and Reach Ladakh, Hotel Grand Dragon, Vissudha and Dr. Nordan Otzer from Ladakh Ecological Development Group for their timely help and sponsoring the exhibition.