EC Konchok Stanzin reviews developmental schemes of Rural Development Department
By
Reach Ladakh Correspondent
Leh, Aug 21, 2019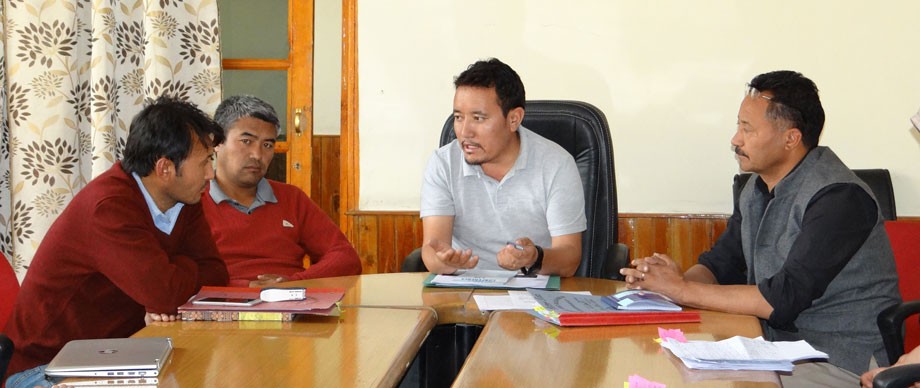 Leh :
A review meeting of all the developmental schemes of the Rural Development Department was held on August 20 at Council Secretariat.
Tsering Paldan, ACD Leh  gave a detail powerpoint presentation about the present progress of schemes like MGNREGA, PMAY, CD Normal, Development of Panchayat, CCDF, BADP, RURBAN and Project Tsang-da being implemented in 16 blocks of Leh district. 
He informed that till date 1,02,343 man-days generated out of 292615 projected under MGNREGA in Leh district and out of the 231 targets 211 houses have competed under PMAY. Total of 11,142 workers has converted into Aadhaar based payment under Aadhaar Seeding and ABPS in Leh district. 
Zakir Hussain, District Panchayat Officer, Leh who look after the Panchayat related issues, Swachh Bharat Mission and 14 Finance Commission also spoke about three schemes being implemented in Leh district.
Konchok Stanzin, Executive Councillor expressed satisfaction over all the ongoing schemes of the Rural Development Department. He appreciated the dedicated work of the staff headed by Tsering Paldan. The department despite having a shortage of staff is giving their best performances. He hoped that the staff shortage issue and other concern of Rural Development Department Leh will be solved in new UT Ladakh when implemented. 
He further stressed on reviewing the progress of all the schemes block and Panchayat wise in the future.