EC Education reviews enrollment of Child with Special Needs in Swavlamban programme database
By
Reach Ladakh Correspondent
Leh, Sep 07, 2019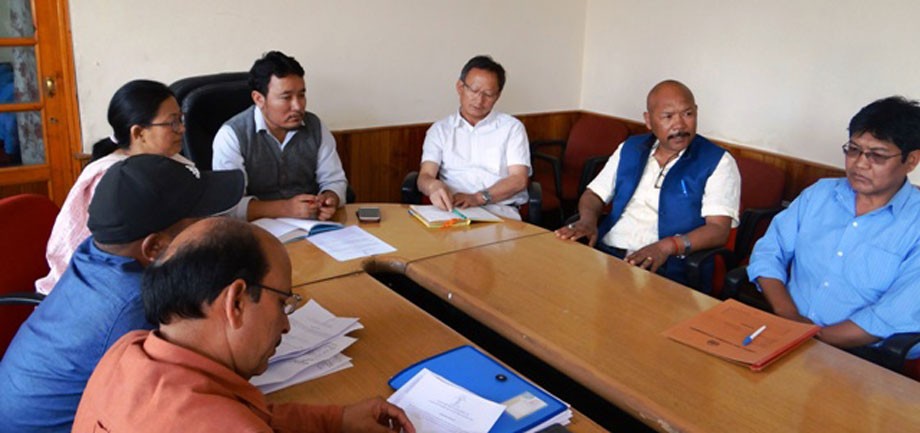 Leh :
A meeting to ensure maximum enrollment of Child with Special Needs (CWSN) in the online database of Swavlamban programme of Ministry of Social Justice and Empowerment GoI was held on September 6 at Council Secretariat.
The meeting was chaired by Konchok Stanzin, EC Education with Education department; Medical department; Social Welfare department; JKBOSE; REWA; MUNSEL and PAGIR.
A Unique ID for a person with disabilities project is being implemented with a view of creating a National Database for a person with disability and to issue a Unique Disability Identity Card to each person with disabilities. The project will not only encourage transparency, efficiency, and ease of delivering the government benefits to the person with disabilities but also ensure uniformity. Also, it will help in streamlining the tracking of the physical and financial progress of beneficiary at all levels of a hierarchy of implementation from village level, block level, district level, state level, and national level.
Kunzang Namgyal, District Coordinator Inclusive Education informed that at present a total of 188 CWSN  between the age of six to eighteen are enrolled in the schools of Leh district out of which 91 students are from Nubra valley.
Konchok Stanzin stressed on all the stakeholders to work in close coordination to ensure maximum enrollment of CWSN in the Swavlamban programme database so that they can avail all the benefits timely. 
For an effective assessment camp for CWSN, he directed CMO, Leh Dr. Motup and Deputy Medical Superintendent SNM Hospital Leh Dr. Angchuk to fix Friday and Saturday at SNM Hospital Leh. 
The assessment of CWSN from Nubra will be held at Sub District Hospital Diskit Nubra and the schedule will be fixed soon. 
He further requested doctors to study the cause of disability in some areas of Leh district which are higher in percentage as per population.  
Tashi Dolma, Joint Director Education Ladakh directed all ZEOs to provide the consolidated list of CWSN to Education Department Leh at the earliest and depute teachers with batches of 10 to 12 students at SNM Hospital Leh for assessment.
 
She also directed ZEOs to send CWSN studying in 10th and 12th classes on priority in view of upcoming board exams so that they can get Disability Certificate to avail the benefits as under rule, if eligible. 
During assessment camps, the transportation, boarding, and lodging of CWSN will be entirely bear by Education department Leh, JD Education added.
Disability Certificate manual and Online Unique Disability ID (UDID) at web portal www.swavlambancard.gov.in, various beneficial schemes under the Social Welfare Department for CWSN, problems, and issues of REWA, MUNSEL and PAGIR were also discussed.