EC, Agriculture, reviews developmental progress at Khaltse sub-division
Asks agencies to ensure completion of all important works within stipulated time
By
Reach Ladakh Correspondent
KHALTSE, Aug 21, 2019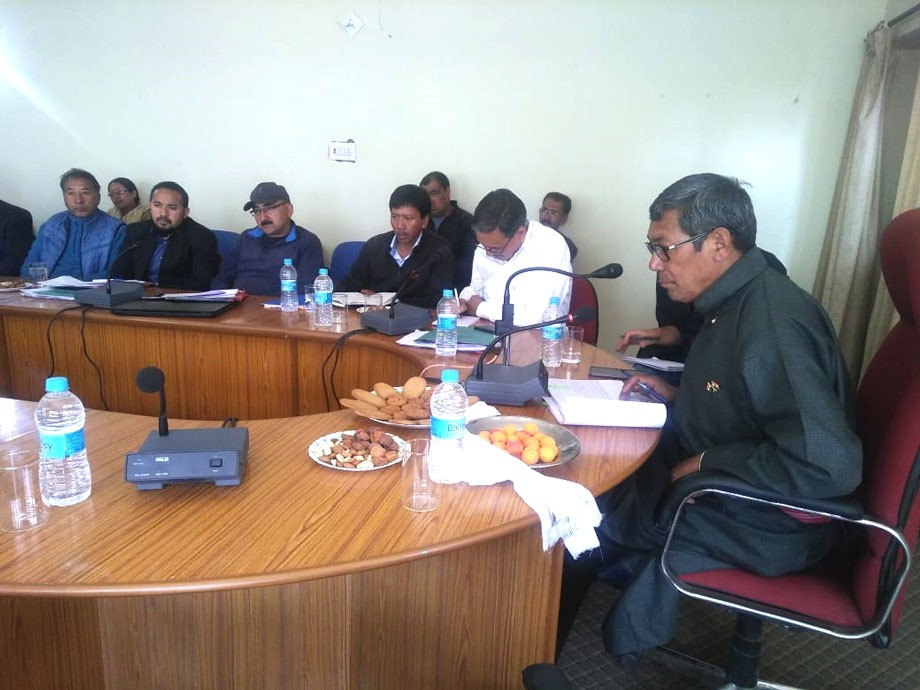 KHALTSE :
Under the review meeting of sub-divisional level officers, Phuntsog Stanzin, Executive Councilor Agriculture evaluated department wise achievement under various developmental schemes on August 20 at Khaltse.
Tsering Motup, SDM, Khaltse, and all Sub Divisional level officers were present.
Phuntsog Stanzin urged the agencies to accelerate working mode and ensure completion of all important works within the targeted time frame.
It was apprised that greenhouses costing ₹ 25,000 per unit has been distributed among the 60 beneficiaries. Besides, exposure tour for farmers, distribution of machinery on subsidised rate and soil health cards were also provided to the farmers.
At Higher Secondary School Khaltse, he assured to solve the issue of teaching staff shortages.
While reviewing the Animal Husbandry sector, he was informed that out of the 400 quota of Kissan Credit Card (KCC) scheme only 4 applications were received so far. Phuntsog Stanzin announced the provision of local cow and Jersey cow at a low purchase level.
Under PWD sector, it was discovered that ₹3.06 crore have been earmarked for construction and extension of roads for various villages in Khaltse sub-division. So far ₹1.53 crore has been released.  The concerned engineer informed that all the works on the sanctioned roads are ongoing with good progress.
In Power sector, it was informed that the Urbis village has been electrified on August 18. PDD was directed to restore the damaged power transformers in the region.
To promote horticulture in the area, Phuntsog Stanzin said that a fruit processing unit will be made functional soon. Progress of fruit plantation schemes and distribution of power triller machines was also reviewed in the meeting. 
Other issues like toilets and drinking water facilities at few health centres also discussed in the meeting.