EC, Agriculture, convenes meeting with milk and vegetable societies
Discusses schemes under Mission Organic Development Initiative and National Cooperative Development Corporation
By
Reach Ladakh Correspondent
Leh, Feb 01, 2020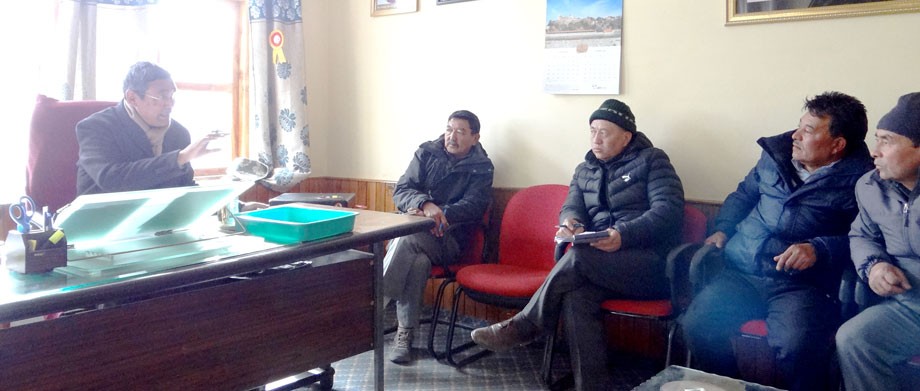 Leh :
A meeting to create awareness about the upcoming schemes and projects being implemented by Hill Council, Leh under Mission Organic Development Initiative (MODI) and National Cooperative Development Corporation (NCDC) schemes was convened by Phuntsog Stanzin, EC Agriculture on January 31.
Milk and vegetable cooperative societies of Leh and surrounding villages were present during the meeting.
Phuntsog Stanzin, EC Agriculture appealed members of milk and vegetable cooperative societies to unite under one federation to avail maximum benefit from the schemes of MODI and NCDC. 
He informed that in upcoming agriculture season, internationally recognized company will adopt villages of Leh district for seed production under MODI programme benefiting farmers of Leh directly. Also under NCDC, ₹ 357 crore projects have been proposed by Hill Council, Leh in agriculture and allied sector. 
Phuntsog Stanzin further informed that the Hill Council is trying hard to bring all the milk cooperative societies of Leh district under one umbrella not only for milk production but also for the production of compost manure and other byproducts through various schemes. 
Regarding functional of milk pasteurization plant of Spituk Agling, he appealed Ladakh Milk Producer's Cooperative Federation (LMPCF), Leh to take over the milk pasteurization plant at the earliest assuring all possible support from Council including the creation of technical posts and training. He informed that another milk pasteurization plant worth ₹ 6 crores is also proposed in the upcoming budget.
The societies were requested to sit together with all the members and come up with a proposal. A meeting with concerned departments will be held on February 4, 2020, to take further course of action.