EC agriculture conducts meeting to finalise draft capex budget 2019-20
By
Reach Ladakh Correspondent
LEH, Nov 29, 2018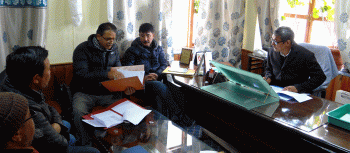 LEH :
The Executive Councilor for Agriculture Phunchok Stanzin convened a meeting of Councilors with HODs of Agriculture, Horticulture, Command Area Development and Soil Conservation departments to finalize the draft capex budget 2019-20 and revised estimate 2018-19 in his office chamber on 20 November.
Discussing the Agriculture sector, Phunchok Stanzin, EC said that Council is giving priority to lead the agriculture sector of Leh towards organic and to substitute chemical fertilizer with compost manure. Council has proposed ₹10 lacs in capex budget 2019-20. Likewise, Council is introducing some new schemes on trial basis including the introduction of horticulture plants in Changthang region, development of pasture land in Changthang and Lingshet-Photoksar area.
He further informed that to cover maximum farmers under various subsidy based schemes under Agriculture, Horticulture, Command Area and Soil Conservation sectors, Council has increased the quantity of all the schemes including Chainlink, Green House Polythene, machine and tools etc in capex budget 2019-20.
He further said that the coming budget is designed to encourage cash crops like rajma, buckwheat, apple and apricot, mushroom, floriculture etc.
Councilors also gave valuable suggestions and feedbacks to strengthen the Agriculture sector and in one vice demanded additional funds in this sector.