Dr. Ishey Namgyal elected as President MC Leh unopposed
Mohd Deen Khan appointed as vice-president
By
Reach Ladakh Correspondent
LEH, Nov 06, 2018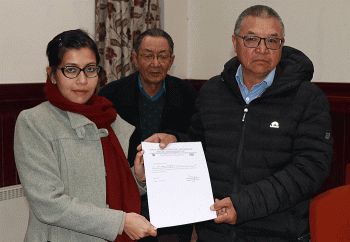 LEH :
Dr. Ishey Namgyal unanimously elected as a president and Mohd Deen Khan as vice-president of the Municipal Committee Leh (MCL). The election process was held under the chairmanship of Deputy Commissioner Leh Avny Lavasa at DC Conference hall on November 3.
Earlier, Avny Lavasa invited the proposal of names for the posts of president and vice-president from all the members and sought their consent in each proposal.
Both the posts were elected uncontested and unopposed in the presence of all the members.
Congratulating both the newly elected heads of MCL, Avny Lavasa said that minimum one meeting of MCL is mandatory to hold every month. The president will call the date of MCL within a set timeframe.
Nawang Rigzin Jora, MLA, Tsering Norboo, Councillor Nimoo, Rigzin Spalbar, Former CEC and supporters in a large number were present during the election ceremony.