Dorjay Motup reviews power supply scenario at NHPC, Alchi
NHPC asks for in-depth study to find out a concrete solution
By
Reach Ladakh Correspondent
ALCHI, Oct 30, 2018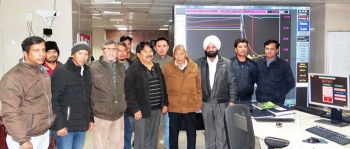 ALCHI :
To end frequent power cuts mainly during the peak evening hours and review work progress of the transmission lines in Shaam, Rong and other unconnected areas, Dorjey Motup, CEC visited NHPC, Alchi and discussed with the authority on October 25.
Dorjay Motup said that power scenario during winters remains more problematic due to exceeding demand for electricity and decreasing power generation. As a result, more complaints from the general public have been witnessing.
He said that NHPC Alchi is a single project at this moment which caters the demand of the maximum population of Leh district.
Such a prestigious project should run without any technical error if possible and immediate solution should be ready at hand to meet any technical snag. He asked NHPC for in-depth study to find out a concrete solution, thus, ensuring uninterrupted power supply with the available power generation.
Also, the progress of the feasibility report on Sumdha-Chenmo line under DDUGJY and ongoing work of transmission line in Rong-Churgyud area under RGGVY was reviewed and urged for early completion.
Gyal P Wangyal urged for streamlining the power supply by discharging their duties with full determination, dedication, and team spirit to ensure continuous power supply especially during peak hours in the evening. He stressed upon working in cooperation instead of playing the blame game.
The engineers informed that the sudden drop in temperature in recent days caused an additional 2 MW load. At present, a total of 21.7 MW is being generated from the project which caters to the need of power supply of the people. They appealed public to use electricity judiciously and wisely.
A detailed presentation on the current power scenario of the NHPC project was presented and crucial data concerning power supply were also exchanged.
Tsering Wangdus, EC, Agriculture also reviewed all the on-going power scenario of the entire Shaam region.
P.P Singh Walkh, Chief Engineer, NHPC, Ghulam Ahmad Mir, Superintending Engineer, PDD, Leh, Tsewang Paljor, Exn, PDC and Tundup Spalzan, Exn STD and other concerned engineers were present.