Documentary film on keeping Leh clean and safe released
It aims at promoting quality tourism in Ladakh
By
Reach Ladakh Correspondent
Leh, Mar 20, 2019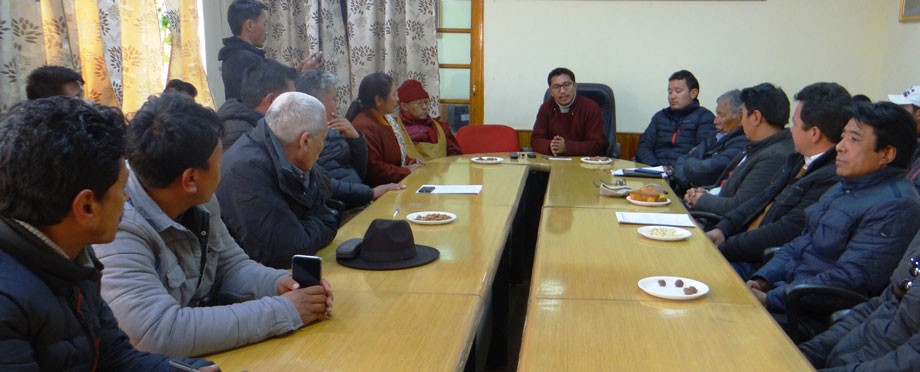 Leh :
A documentary film titled 'Keep the fragile environment of Leh clean and safe' was launched by Jamyang Tsering Namgyal, CEC on March 7 at Conference hall, Council Secretariat. 
A thirty-minute long documentary film at an estimated cost of ₹2 Lakh was made by J&K Tourism Department in collaboration with LAHDC. The aim is to promote tourism in Ladakh and also to convert quantity tourism into quality tourism.
Lauding the efforts of Tourism Department, Jamyang Tsering Namgyal said that the tourism sector has evolved as a major contributor in terms of a new economy to Ladakh. 
He said, "Since the opening of Ladakh to the outer world, we have achieved the required quantity and now the time has come when it is important to convert quantity tourism towards quality tourism. The Council is making conscious and well-thought plans in this direction."
He informed that the district budget for tourism has increased from ₹4 Lakh to ₹ 25 Lakh when the tourism portfolio was handled by Tsering Sandup, the then EC Tourism. He added that effort is being made to increase it further. 
He further urged upon the trade fraternity of Ladakh to promote winter tourism in Ladakh by highlighting the important and vibrant month-long festival of Losar on a trial basis. While, we can explore other avenues like wildlife, bird viewing, and other aspects.
He also appreciated the entire Ladakh Trade Alliance for their cooperation in following the regulations for Chadar Trek which was highly useful and lifesaving for the host and the tourists.
Using locally grown organic vegetables and fruits in hotels and restaurants to help the farmers along with the promotion of healthy food was also suggested.
P.T. Kunzang, President Ladakh Trade Alliance submitted a copy of a memorandum to the CEC and requested to address the issues related to airport and airlines.