Divisional Commissioner, Ladakh, reviews election preparedness of twin districts
Stresses on mobilising SVEEP activities in both the districts for maximum voter participation
By
Reach Ladakh Correspondent
Leh, Mar 20, 2019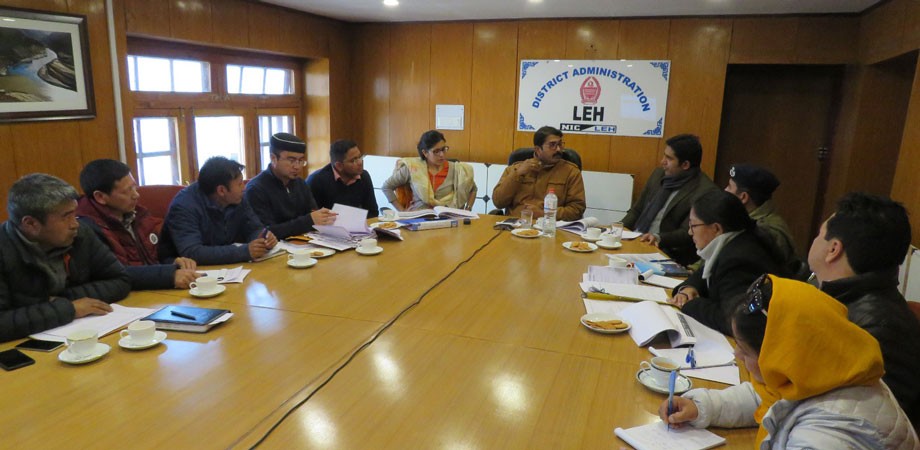 Leh :
A review meeting on election preparedness and discussion on various provision and issues was convened by Saugat Biswas, Divisional Commissioner Ladakh on March 7.
Avny Lavasa, DC, Leh and Basir-Ul-Haq Chaudhry, DC, Kargil were present.
Saugat Biswas discussed various issues regarding the provision of Assured Minimum Facilities at the polling stations. He also assessed the availability of basic facilities at all the Polling Stations in Leh and Kargil districts.
The Deputy Commissioners of both the districts, Avny Lavasa and Basir-Ul-Haq Chaudhry highlighted the present state of election preparedness in both the districts in terms of status of electoral roll,  manpower requirement, transportation plan, requirement of helicopters for polling in cut off places, availability of EVM/VVPAT machines, communication plan, training programmes for polling parties, status of SVEEP activities, setting up of strong rooms and counting centres and law and order assessment. 
Setting up of Media Certification and Monitoring Centre (MCMC) and implementation was also discussed.
Saugat Biswas directed the Deputy Commissioners to put in place all the basic facilities like drinking water, toilet, and electricity at each polling station well in advance to facilitate smooth conduct of elections. Also, he stressed on the mobility for the persons with disabilities and asked to ensure ramp, wheelchairs and other such facilities.
He further urged to push up the SVEEP activities in both the district for mobilization of maximum voters.
Avny Lavasa mentioned the need for extra EVM / VVPAT machines in the event of simultaneous elections for both Lok Sabha and Assembly.
Moses Kunzang, Additional District Development Commissioner,  Sachin Kumar, ADC, Leh, Deputy District Election Officer, and all the Nodal Officers were also present.