Div Com reviews availability of essential commodities in Ladakh
By
Reach Ladakh Correspondent
Leh, Feb 04, 2020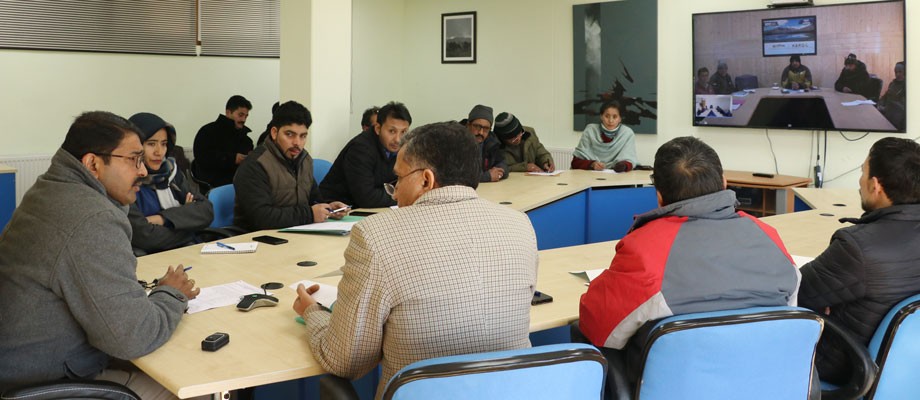 Leh :
Stocking position and shortages of essential commodities in Leh and Kargil district to ascertain its availability for the next three months was reviewed by Saugat Biswas, Divisional Commissioner Ladakh on February 3.
Saugat Biswas enquired about the existing stock of essential commodities with the Cooperative Department, Cooperative Associations, Merchant Association and Wholesaler Association of Leh and Kargil. 
He directed DC, Kargil and ADC, Leh to execute market survey mechanism to ascertain a data on monthly consumption and total off-take in the market of the essential commodities like salt, sugar, tomato puree, onion, mutton, dal, ghee etc. Based on the survey report shortages will be addressed by airlifting the required commodity. The purchases will be made by the merchant association with the consent of the respective LAHDC's.
Deputy Commissioners were asked to ensure close monitoring of the market by Cooperative CAPD and Merchant Associations to ensure no hoarding of materials. Also, he asked DC's to convene a meeting with the members of Merchant Associations to ensure a proper system in place to have adequate stocking of essential commodities in the districts of Leh and Kargil for the next 3 months.
CAPD department was directed to give a daily report of availabilities of essential commodities to the Divisional Commissioner and both the Deputy Commissioners.
Anil Koul, Director Cooperative; Zahida Bano, ADC, Leh; Sherab Gyaltson, AD CAPD; Presidents of Merchant and Wholesaler Association from Leh were present in the meeting. Baseer Ul Haq Choudhary, DC Kargil; Officers from Cooperative Department and President Merchant Association Kargil joined the meeting through video conferencing.