District Advisory Committee on Environment to review and implement proposals
By
Reach Ladakh Correspondent
Leh, Jan 17, 2020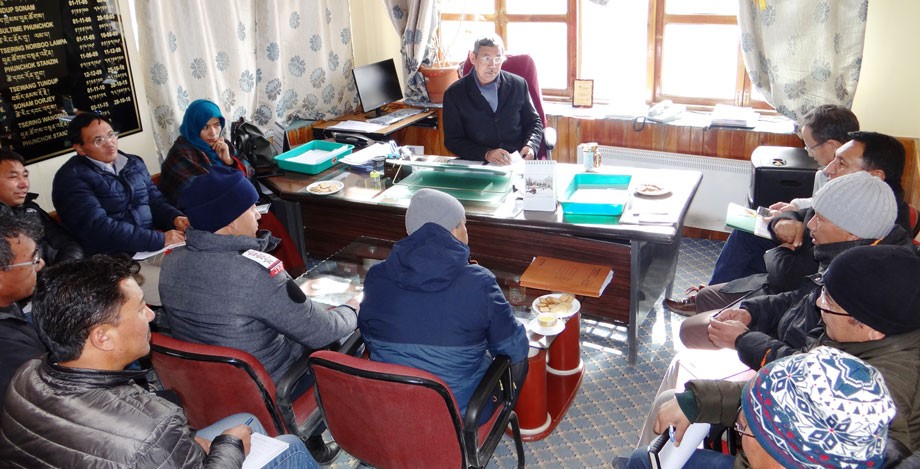 Leh :
 A meeting on the formulation of environmental policy and regulations for Leh district was convened by District Advisory Committee on Environment at Council secretariat on January 16.
The committee headed by Phuntsog Stanzin, EC Agriculture and Environment reviewed proposals and estimates of different agencies regarding the execution of work immediately to improve roads aiming to decongest traffic and provide safe roads in Leh town. 
He directed concerned agencies to execute shifting and realignment of PDD and BSNL poles on roads and removal of dangerous poles at the earliest. 
Regarding the collection of biomedical waste, Municipal Committee, Leh was directed to collect biomedical wastes separately and ensure safe disposal of the same.
Rural Development Department, Leh was asked to give a proposal for improvement and expansion of Project Tsang-da with required baling, shredding and Incinerator machines. Also, Tourism department was asked to prepare a detailed project in controlling pollution in tourist season and ARTO, Leh was asked to submit a detailed project of transport-related issues to Hill Council, Leh.
A separate meeting with Truck, Bus, Mazda and Taxi union with ARTO, Leh, Traffic police and District Officer PCB was also convened by Phuntsog Stanzin, EC.
It was decided that no truck or tripper will be allowed to carry construction materials like sand and gravel materials (Bajri) without proper cover and tail door (dala). If found violating the rules, both the crusher owner and vehicle will be fined. Buses operating in Leh will stop on designated bus stops only, pink bus for ladies will be operated in evening hours and heavy vehicles will use bypass roads from now in Leh town.
Issues like increasing frequency of buses in morning and evening (office hours), use of waste collection bags by taxies, proper septic tank for toilets at Khardong –La and creation of WhatsApp group of transporters, ARTO and Traffic police staff were also discussed.