Director Health reviews Intensified Pulse Polio Immunisation programme measures
Immunisation to be done in a single round on January 19 in Leh district
By
Reach Ladakh Correspondent
Leh, Jan 16, 2020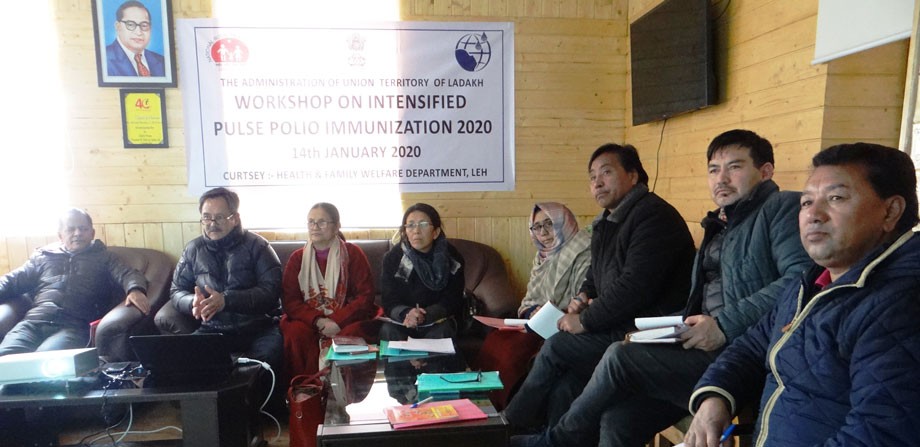 Leh :
A meeting on the Intensified Pulse Polio Immunization (IPPI) programme was convened under the chairmanship of Director Health Dr. Phuntsog Angchuk on January 15 at CMO Office Leh.
The IPPI programme will be held in a single round on January 19 in Leh district. 
Dr. Phuntsog Angchuk informed that on the day of vaccination all the deployed health workers and other vaccinators like ASHAs, AWWs and volunteers will be available at the booth from 9.00 a.m. to 4.00 p.m. Also, for the subsequent two to three days the health workers will be visiting every household within their respective jurisdiction to ensure complete polio dosage to any child under 5 years of age, who missed the pulse polio immunization on January 19.
 
He enquired about the status of vaccine dispatched to the remote areas and other issues regarding the Intensified Pulse Polio Immunization. Assuring all kinds of facilities as per routine plan he urged the allied departments to cooperate in making the programme successful with 100% coverage of children under 0-5 years of age. 
Block Medical Officers were directed to carry out the immunization programme across the district in a systematic way giving special attention to cover the children in snowbound areas.
 
Location of Intensified Pulse Polio Immunization booth, house to house activity, booth activity, transit points, and mobile team was discussed.