DC, Kargil, chairs meeting of District Mineral Foundation Trust
By
Reach Ladakh Correspondent
Kargil, Jan 23, 2020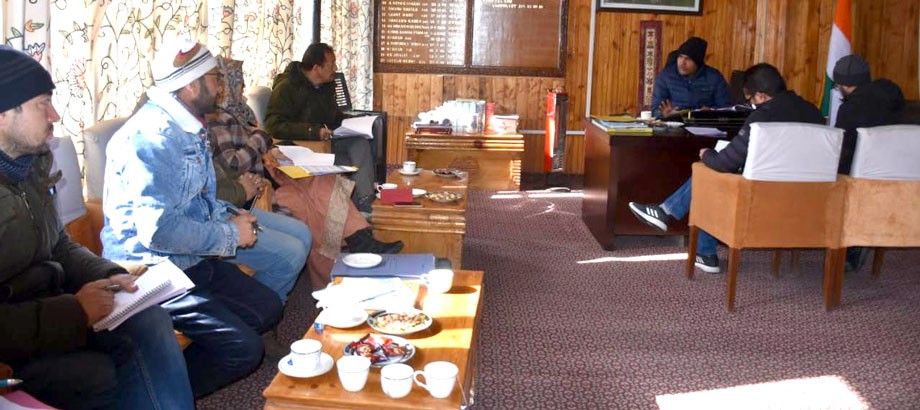 Kargil :
A meeting on the works/schemes to be executed under Pradhan Mantri Khanij Kshetra Kalyan Yojana (PMKKKY) out of the District Mineral Fund was held on January 22 in Kargil.
Baseer ul Haq Chowdhary, DC, Kargil chaired the meeting with the members of District Mineral Foundation Trust (DMFT) Kargil.
District Mineral Officer informed about the funds collected by Mineral Foundation Trust, Kargil during the year 2017-2018, 2018-2019 and 2019-2020. 
After discussions and deliberation, it was decided that out of ₹30 lakh collected so far, ₹20 lakh will be utilized for the upgradation and renovation of District Library Kargil which includes the purchase of various books for competitive examinations, improvement of reading rooms and other required necessities. The remaining ₹10 lakh was decided to be utilized for sanitation provision which includes all-season washroom, drinking water supply, heating system and reading room facilities at Bal Ashram Kargil.
Baseer ul Haq Chowdhary directed the District Mineral Officer Kargil who is also the Member Secretary, DMFT to initiate the process of obtaining DPRs for the proposed works for accord of administrative approval. The executing agencies were asked to ensure proper fulfilment of all codal formalities for the execution of the proposed works and to take care of the quality and quantity parameters.
He also instructed the concerned officers to conduct the annual audit of DMFT as the set rules and guidelines. 
Sonam Chosjor, Additional Deputy Commissioner Kargil; Ved Prakash, District Superintending Engineer PWD; Ghulam Muhammad, Assistant Commissioner Development Kargil; AD Planning, Chief Medical Officer, District Social Welfare Officer, District Panchayat Officer, District Mineral Officer and other concerned officers were present.