DC interacts with people at zero border on her two days visit to Nubra
By
Reach Ladakh Correspondent
NUBRA, Nov 29, 2018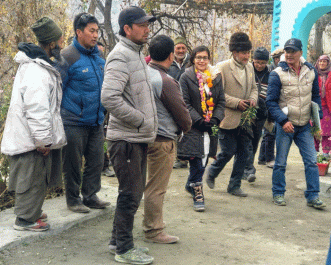 NUBRA :
Avny Lavasa, DC interacted with public and listened to their grievances and demands during her two day Nubra subdivision tour on November 27 and 28.
She visited Bogdang, Turtuk and Thang villages along with Sonam Norboo, SDM Nubra, Tashi Namgyal, Xen PWD Nubra, Mohd Rafiq, BDO Diskit, Ab Rehman, Naib Tehsildar Turtuk, and Nisar Ahmed, SHO Nubra.
People highlighted the issues including settlement of land compensation case with the army, construction of Turtuk-Hanu circular road, declaration of Turtuk and its seven adjoining villages under the Actual Line of Control (ALC) category, opening of Tebay-Domkhar trek route, resolution of CP Thang and other land disputes.
Avny Lavasa assured to take up their issues with the higher authorities for early redressal.
She also briefed about Ayushman Bharat PMJAY scheme and its benefit to the general public. And urged the Nambardar and newly elected Sarpanches and Panches to ensure maximum enrollment of beneficiaries under the scheme once it gets underway.
She informed that the enrollment process will get started shortly once SDM Nubra identifies suitable locations to establish the CSC (Common Service Centre).
She also visited sub-District Hospital, Diskit and took an update of the ongoing registration process of Ayushman Bharat PMJAY scheme.
During the inspection, she issued strict instructions to SDM and BMO to speed up the work by mobilizing health workers. She asked them to approach the army for the provision of internet services in completing the registration process.
Also, a review meeting at the waste segregation centre Diskit was held.
The participants expressed gratitude and happiness over the opening of this centre and requested DC for the opening of similar centre at Hundar. Besides, they raised issues of stray animal menace, construction of public toilets on Leh-Nubra road, the revival of SRTC bus service from Diskit to Skuru etc.
Avny Lavasa expressed happiness and satisfaction over the successful functioning of the centre. She urged the Panchayat to play their crucial role in the functioning of this segregation centre in the future.