Conference on 'Creating a Sustainable Future for J&K & Ladakh' held in New Delhi
R K Mathur highlights potential sectors to make Ladakh economically viable and sustainable
By
Reach Ladakh Correspondent
Leh, Jan 18, 2020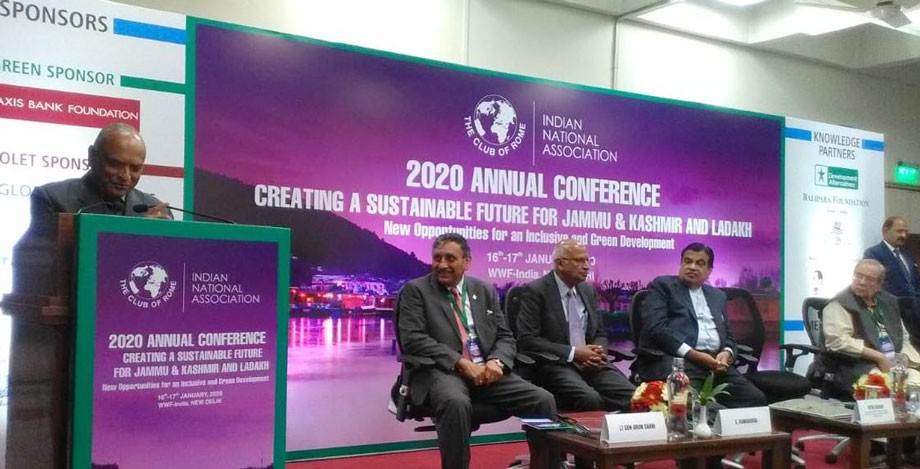 Leh :
Annual conference of the Indian National Association for the Club of Rome (CoR-India) on 'Creating a Sustainable Future for J&K and Ladakh-New Opportunities for an Inclusive and Green development' was inaugurated on January 16 at WWF, New Delhi.
Nitin Gadkari, Minister for Road and Transport and Radha Krishna Mathur, Lieutenant Governor, UT Ladakh were present.
The conference serves as a suitable platform to highlight the potential for sustainable development in Ladakh and to explore measures to mitigate the challenges faced in this endeavour.
R K Mathur outlined the historic importance of Ladakh as a self-reliant society at the crossroads of the famed Silk Route and highlighted the need for a sustainable future for Ladakh. He identified tourism, horticulture, pashmina processing, wildlife, aromatic & medicinal plants, renewable energy resources, astronomy as some of the sectors which hold good potential in Ladakh's growth towards an economically viable and ecologically sustainable society. 
However, he mentioned that Ladakh faces a number of challenges in the realization of its full potential, particularly terms of road accessibility and telecom connectivity.
Nitin Gadkari while taking cognizance of connectivity issues in Ladakh, ascertained that his ministry is working at resolving these issues, specifically the construction of Zojila tunnel, at the earliest. 
Talking about the plans on developing small scale and cottage industries, he recommended that a plan for developing the handicraft and handloom sectors of Ladakh may be delineated. The government is also promoting the use of honey, khadi, fisheries, biofuels, bamboo, forest products etc to boost the turnover of small scale industries.
The Indian National Association for the Club of Rome aims to act as a global catalyst for change through the identification and analysis of the crucial problems India is facing and the communication of such problems to the most important public and private decision-makers as well as the general public.