CEC stresses on fees regularisation and safety in private school
Committee will be formed soon to look into these matters
By
Reach Ladakh Correspondent
LEH, Nov 29, 2018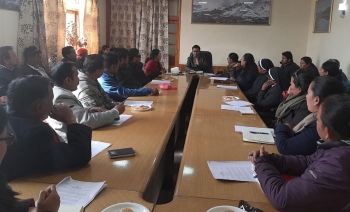 LEH :
A meeting was held in which in private schools were asked to regularise fee structure, ensure safety in school buses and prohibits from selling uniforms and text/ notebooks till November 30.
Tsering Namgyal, CEC during his meeting with the heads of all private schools in Leh on November 27 at Council Secretariat.
The purpose of the meeting was to discuss, brainstorm and take suggestions to reduce the gap between government and private schools in terms of academic and other facilities.
He appreciated the private schools for their contribution in providing quality education but asserted on a collective effort to strengthen government schools.
He said that unlike building bridges, roads etc, the education sector is to build the future of students and improve the value of human resources.
The school heads were asked to deliver the best of education to the children and also ensure to follow all the guidelines and norms issued by Supreme court to run the educational institute. He also asked them to read Section 23 and 24 of LAHDC Act to gain insight into school education norms in Ladakh.
He said, "I'll not compromise at any cost concerning the safety of school children."
Issues including pay acquaintance, teacher-student ratio, classroom size, admission procedure, teacher appointment, and 25% reservation quota in private schools were also discussed.
He informed that a committee will be formed soon to look into these matters and based on their suggestive solutions council will take required but inclusive decisions.
A common calendar for all government and private schools in the coming year was also informed.
Tashi Dolma, Joint Director Education Ladakh, Konchok Angmo, Principal DIET/ In-charge CEO, Paldan Tundup, ZEO, Leh Tashi Tundup, Assistant Secretary, JK BOSE, Leh and principals of 21 private schools were present.