CEC, Leh, inspects developmental work progress
By
Reach Ladakh Correspondent
Leh, May 29, 2019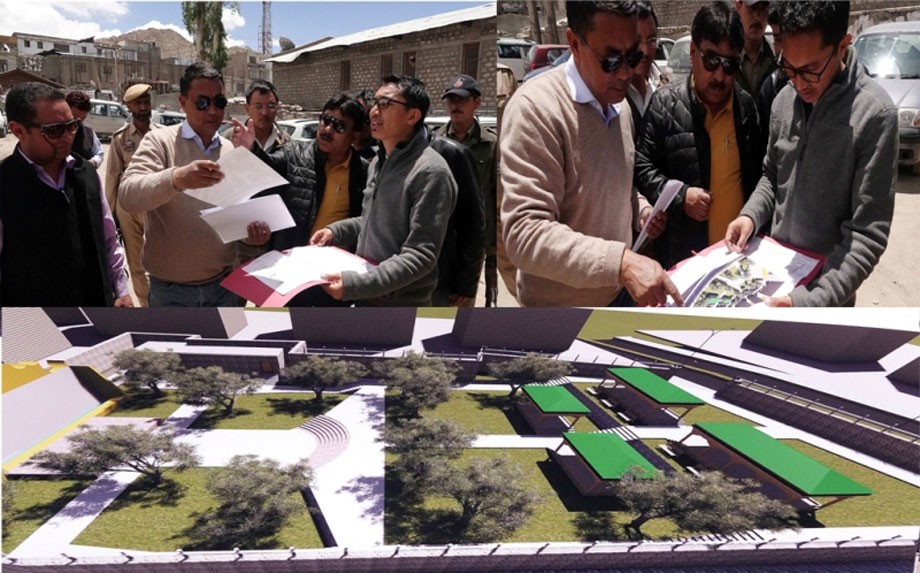 Leh :
Jamyang Tsering Namgyal, CEC inspected a number of developmental works in Leh and took stock of the work progress on May 28.Gyal P Wangyal, Deputy Chairman and Mumtaz Hussain, EC Minority were also present.
While assessing the progress of Choglamsar bridge construction, Jamyang instructed the engineers to gear up the pace of work and complete the bridge installation within 8 months.
The bridge constructed under CRF scheme is the main approaching bridge of Chuchot, Stok and Matho villages.
He later inspected the site of Eco Public Park at the old taxi stand near main market Leh. The engineers informed that the park besides having amusement space for the general public will also have an Open Theatre, Cafeteria, toilets, etc.  
Considering the significance of this park in adding beautification to Leh town as well as to facilitate the people for their leisure time,  Jamyang instructed engineers to ensure the creation of the park in such a way that would truly serve the whole purpose.
He specially laid emphasis on giving a traditional touch to the entire structure of the park which should represent Ladakh with eco-friendly manner. 
 
He also inspected the site near petrol pump chowk where illegal construction was carried out by some people.  He made it clear that the land is located at an important junction will be needed for future road expansion. He further gave on spot instruction to the concerned departments to immediately cancel the land allotment order.
The progress of the installation work of a Blackhole machine at Bombgarh was also enquired. Looking at the rising environmental issue in the wake of huge accumulation of garbage there, a deadline was set for functional of the machine within a month. Executive Officer, MC, Leh was asked to gear up the works.