CEC, Leh, convenes meeting with VC, Ladakh University
VC assures of a functional Cluster University by 2020 with atleast one PG and integrated course each
By
Reach Ladakh Correspondent
Leh, Jul 20, 2019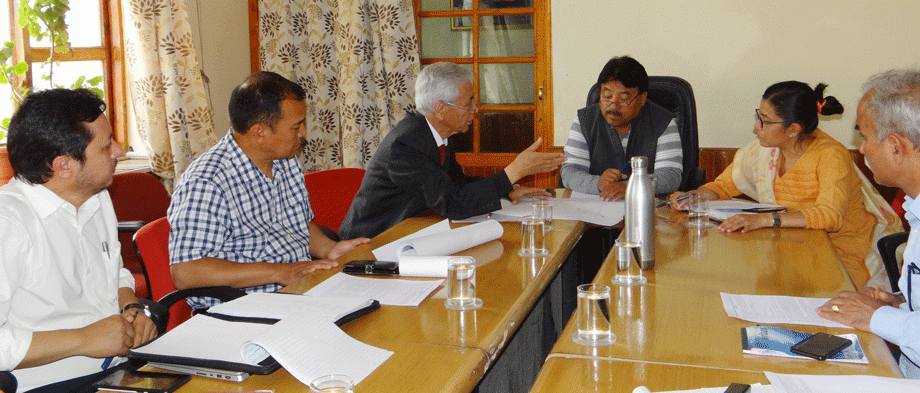 Leh :
To ensure earliest functional of University of Ladakh in Leh, Gyal P. Wangyal,CEC convened a meeting with C. Phuntsog ( IAS Retd.), Vice-Chancellor, Ladakh University ; Deputy Commissioner Leh Avny Lavasa; Tashi Dolma, Joint Director Education Ladakh; Imteeaz Kacho ,Registrar, Ladakh University; Prof. Deskyong Namgyal Controller of Examination, P.K Sharma, SE PWD Leh concerned engineers and officers on July 18 at council secretariat. 
C.Phuntsog, Vice Chancellor, Ladakh University said that there is no problem in making the Ladakh University functional if Kashmir University will hand over both the satellite campuses at Leh and Kargil districts to Cluster Universities of Leh and Kargil at the earliest but there is still uncertainty in this regard.
C. Phuntsog tabled an agenda before the Hill Council,Leh  in case of non-availability of  Satellite Campus Taru which include identification of land for construction of Cluster University Leh, Post-Graduate and Integrated Courses to be introduced during 2020, the deputation of employees for university from District Administration, introduction of relevant and employability  courses  for Leh University, procurement of vehicles for University through district administration, requirement of a bore-well water supply source for the campus of the university and renovation of the temporary office building (FFOI building) for University's offices.
C. Phuntsog talking about the identification of land for the Leh Campus said that 500 kanals have been demanded by the Higher Education Department and we need at least 400 kanals for a good University Campus to be laid. 
"PWD has prepared the site plan for the Administrative Block/Central Blocks (constituting about 190 kanals) on the backside of EJM College Leh", V C Phuntsog added. 
He assured that Cluster University Leh will be made functional in 2020 with at least one PG Course and one Integrated course and requested Hill Council, Leh to suggest relevant and employability courses for Leh.
Gyal P Wangyal, CEC said that C. Phuntsog being a Ladakhi and senior experienced retired IAS officer will certainly help a lot in making Ladakh University functional at the earliest and urged all the concerned officers to give their best and directed SE PWD to start the renovation of FFOI building for office use of Leh University and installation of  bore-well at the site. Regarding handing over of Satellite Campus Taru to Cluster University Leh, CEC assured to take up the case with Governor J&K soon.
A discussion was also held about the potential of Engineering College in Leh and construction of girls hostels at Degree College Leh and Diskit Nubra.