CEC, Kargil takes stock of Community Health Centre in Sankoo
By
Reach Ladakh Correspondent
Kargil, Jun 08, 2019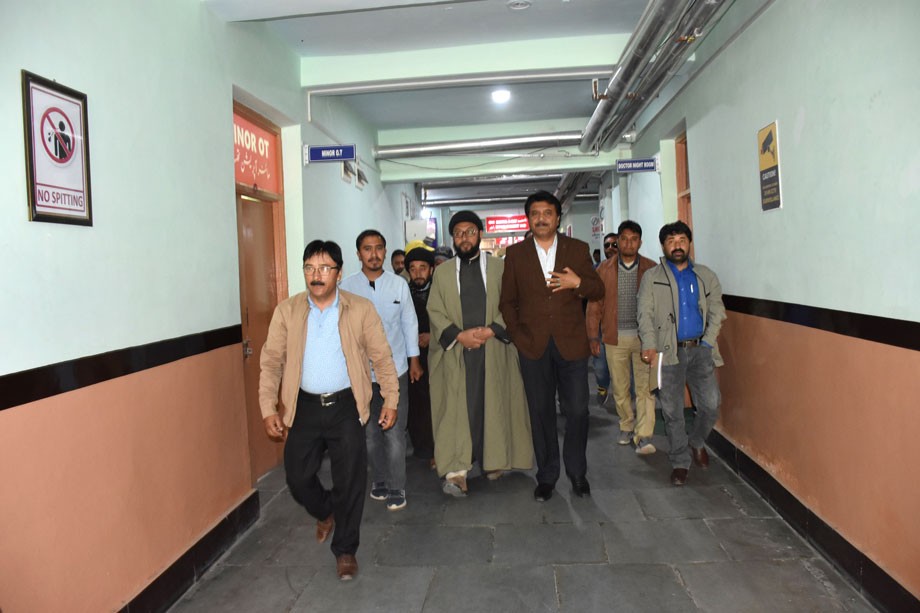 Kargil :
Chairman and Chief Executive Councillor LAHDC, Kargil, Feroz Ahmad Khan visited Community Health Centre, Sankoo and took stock of the health facilities on June 7.
 
Feroz Ahmad Khan went around various wards and sections of the hospital including Out Patient Department (OPD), Wards, Casualty Block, Labour Room, General Drug Store, X-ray Room and others.
He appreciated the BMO Sankoo and his team of doctors and paramedical staffs for their dedicated services in providing better healthcare facilities to the people.
  
Also, he interacted with the patients and attendants and enquired about the status of the healthcare facilities being provided.
 
Discussion on various other important issues related to the development of the hospital and up-gradation of the existing health facilities was carried out.
Feroz Ahmed said that the present Council is leaving no stone unturned to appoint qualified doctors and to ensure quality healthcare facilities. He said that concrete measures would be taken to perform major surgeries at the Community Health Centre from this year.  Machinery equipment for Operation Theatre will be provided in the next few months.
The demands for early operationalization of 11KV feeder for a provision of power to the hospital, Anesthesia and Ultrasound machines, deployment of medical officers, Anesthesia and Laboratory Assistants, deployment of sweepers and enhancement of remuneration of outsourced sweepers, repair of central heating system and enhancement of central heating system funds and others are put forward. 
Feroz Ahmed Khan assured that the issues would be given due consideration and necessary steps would be taken accordingly. He directed the Executive Councillor to resolve the minor issues and CMO Kargil to fix priorities to meet the demands of the Community Health Centre in a phased manner.
The health functionaries were asked to discharge their allotted duties with utmost dedication and commitment in providing the best healthcare facilities to the public.