CEC inaugurates Meru Bridge constructed by BRO 111 RCC
By
Reach Ladakh Correspondent
Leh, Mar 23, 2020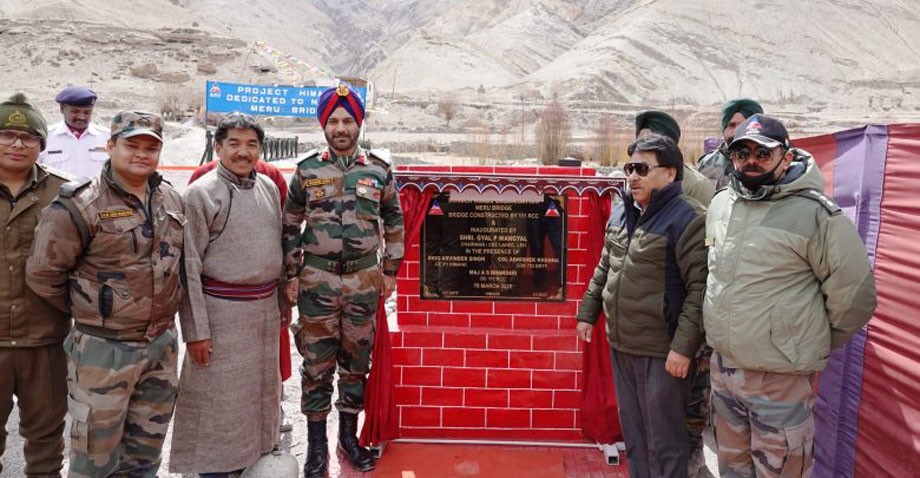 Leh :
A 60 feet Meru Bridge over Gya-Meru Nallah constructed by BRO 111 RCC as a welfare gesture to the village was inaugurated by Gyal P. Wangyal, CEC, Hill Council, Leh at Meru village on March 19.
Brig Arvinder Singh, Chief Engineer Project HIMANK, Col Abishek Khanna, CDR 753 BRTF, Maj. A.S Bhandari, OC 111 RCC and Tsering Paldan, Councillor Igoo were also present.
BRO 111 RCC undertook the task of building the Meru Bridge on Gya-Meru stream from February 17 this year following requests from the Hill Council, Leh to help the villagers and the bridge was opened to the farmers who have their houses and agricultural land across the stream. 
Wangyal congratulated the people of Meru village for having this vital bridge launched by BRO which will help farmers to cultivate their land across the river properly as farmers were facing lots of challenges earlier. He said that this bridge was one of the old and pending demands of the village since 2010 and due to the shortage of funds Hill Council, Leh could not construct the bridge till date. 
Wangyal on behalf of Hill Council, Leh and Meru village thanked Chief Engineer Project HIMANK Brig Arvinder Singh, BRO officers, soldiers and labours for constructing this bridge in record time and highly appreciated their goodwill gesture towards Meru village. 
 
The villagers further demanded installation of mobile tower, up-gradation of medical sub-centre, construction of community hall etc.
 
Brig Arvinder Singh,Chief Engineer Project HIMANK said that the main objective of HIMANK in Ladakh is to connect the far-off villages with rest of the world and assured that HIMANK will be always on the front in the welfare of the locals. 
 
Tsering Paldan, Councillor Igoo and Nambarder Meru also thanked BRO for constructing the bridge, which has brought much relief to farmers of village and requested BRO to construct two more culverts in the Gya-Meru valley to ease the life of villagers. 
 
The doctor of BRO also educated people about the do's and don'ts related to COVID-19 advised them to follow basic protective measures so that they can keep themselves safe from the Novel Coronavirus. 
 The villagers also presented a cultural programme on the occasion.