CEC flags off first batch of 2020 Chadar trek tourists
By
Reach Ladakh Correspondent
Leh, Jan 06, 2020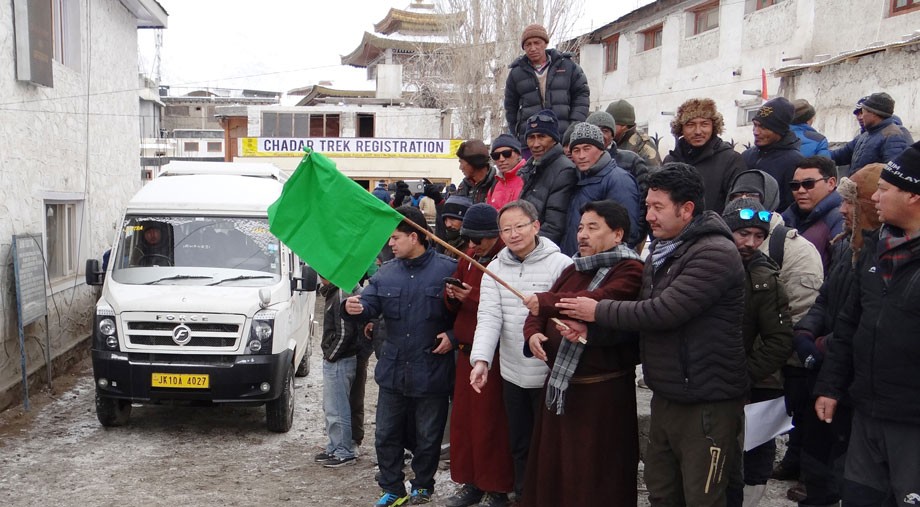 Leh :
A batch of around 90 tourists for Chadar trek was flagged off by Gyal P Wangyal, CEC, Hill Council, Leh on January 6 from Tourist Information Centre, Leh.
Gyal P Wangyal said that this year elaborate arrangements have been made by the administration of Hill Council, Leh to facilitate tourists coming for famous Chadar Trek. 
He also inspected ongoing registration and mandatory medical checkup for tourists going for Chadar trek at TIC Leh.
Facilities like mobile wireless handsets for communication, two rescue Helipads to tackle emergency cases, deployment of SDRF teams along the trekking route, role of Indian Air Force in case of emergency, regulating of waste by Wildlife department are already put in place for 2020 Chadar trek. 
Nearly, 205 tourists gone through mandatory medical checkup out of which more than 100 have registered themselves for Chader Trek at TIC Leh. 
Dr. Motup Dorjey, CMO, Leh; Tsetan Angchuk, President ALTOA and a large number of tourists and Chadar trekking guides were present.