CBSE delegation calls on Chairman, Hill Council, Leh
Discusses shifting of schools from JKBOSE to CBSE, syllabus, CBSE affiliation by-laws, bridge courses for in-service teachers, inclusion bhoti language as compulsory subject
By
Reach Ladakh Correspondent
Leh, Jan 27, 2020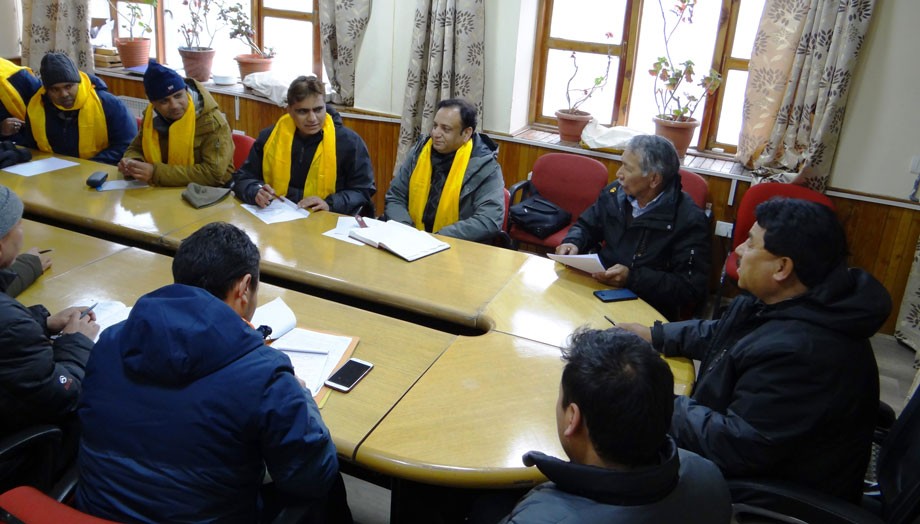 Leh :
To discuss the procedures for affiliation of govt. schools of Leh district with CBSE, a meeting was chaired by Gyal P Wangyal, CEC, Hill Council, Leh with Central Board of Secondary Education (CBSE) delegation team headed by Deputy Secretary, Affiliation from CBSE, Karnail Singh on January 26 at Council Secretariat.
Tsering Sandup, Deputy Chairman, Konchok Stanzin, Executive Councillor for Education, officers of Education Department Leh headed by Tsethan Dorjey, DEPO, Leh and Tashi, Secretary, JKBOSE were present.
Konchok Stanzin, EC briefed CBSE team about the present education system, enrollment of students and school infrastructure facilities of Leh district.
The meeting had a threadbare discussion on shifting of schools from JKBOSE to CBSE, student grievances, sessions, criteria, syllabus, CBSE affiliation bye-laws, bridge courses for in-service teachers, inclusion Bhoti language as compulsory subject etc.
Karnail Singh, Secretary, Affiliation from CBSE informed that the CBSE exists in difficult areas like Arunachal, Sikkim and Himachal states and conducts exams successfully. He said that if UT Ladakh Administration and Hill Council, Leh decides to affiliate its schools with CBSE, the transition will be slow and smooth so that students could adjust to the new board easily. 
Regarding the inclusion of Bhoti language as a compulsory subject in CBSE, Singh said that on the pattern of regional languages, Bhoti can be inducted as an optional like Urdu/Arabic etc but cannot be a compulsory subject in CBSE.
Wangyal, Chairman and Tashi, Secretary JKBOSE stressed for establishing a Regional Office/ Sub-Office of CBSE at Leh keeping in mind the harsh-topography and scattered area of Ladakh so that students could solve their problems at Leh only. The delegation assured to keep this point in their report.