BSNL daily wagers demands pending salaries
By
Stanzin Dasal
Leh, Jul 18, 2019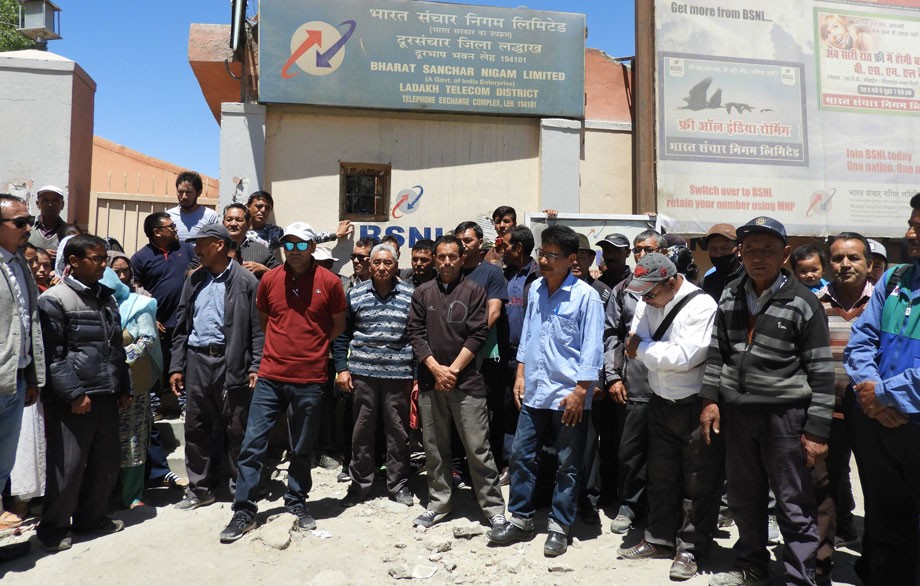 Leh :
Daily wagers engaged with Bharat Sanchar Nigam Limited (BSNL), Leh staged a protest demanding payment of the pending salary on July 17 in Leh.
Around 116 casual workers are left without salaries for nine months.
Morup Dorjay, a casual worker said, "Our salaries are kept pending from the last nine months because of which we are facing a huge crisis. We are finding hard to meet our daily expenses due to the non-payment of salary".
"We have raised the issue several times at all levels but has not been considered so far", he added.
Another employee, Gurmet Dorjay said, "We request all the concerned officials to kindly pay our pending salaries at the earliest. If our demands are left unheard we will continue our strike in the coming days also."
When asked about the issue to Phuntsog Dorjay, General Manager, BSNL, Leh said, "BSNL is facing a financial crisis because of which the problem is arising. The crisis is prevalent countrywide and high-level meetings are convened to address the issues and hope that it will be solved soon".
"For a time being considering the financial crisis faced by the daily wagers we can facilitate them with the withdrawal of EPF so that they can use the money for a month or two and by the time we expect funds to be released", he added.
The protestor threatened that if this continues they will further intensify the struggle.