BJP, Leh, felicitates newly-elected Sarpanches and Panches
By
Rigzin Wangmo
LEH, Dec 01, 2018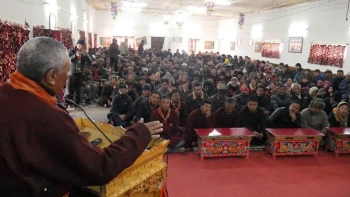 LEH :
Bharatiya Janata Party Leh felicitated newly elected Sarpanches and Panches of Leh district on November 30 at Shenam Community Hall, Leh.
Around five hundred Panches and Sarpanches attended the function.
Congratulating all the Panches and Sarpanches, Chering Dorjey, MLC said, "Panchayat plays an extremely important role and is the base for the development of Ladakh. The training will impart many aspects to have the finest knowledge about how development can take place."
He further briefed about the BJP contribution and developmental works.
Jamyang Tsering Namgyal, CEC assured all the elected Panches and Sarpanches that the party will support through every thick and thin.
He said, "The greatest spirit is that the Panches and Sarpanches are elected by the villagers of their respective constituencies and it is not fought on any political party's mandate. You all are advised not to discriminate the villagers while development activities are done".
He informed that the elected representatives have the constitutional authorities and the work must be done taking them into confidence.
All the district executive members of Mahila, Yuva Morcha, councilors were present.