Avny Lavasa convenes meeting with stakeholders of service industry in Leh
By
Reach Ladakh Correspondent
LEH, Oct 30, 2018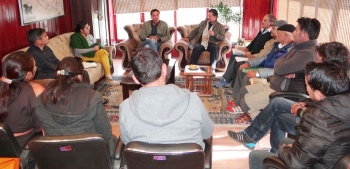 LEH :
To take stock of the problems and grievances, a meeting was convened by Avny Lavasa, DC with all the stakeholders of all the transporters, merchant, hotel and contractor associations, ALTOA and Indian Mountaineering Federation (IMF) on October 17 at DC office.
The transport union raised issues of vintage vehicle clause and non-utilization of local vehicles like truck, taxi, buses by the army.
The representatives of the union also assured to punish the defaulters who cause traffic nuisance. They urged the administration to cease such vehicles and charge them with a heavy penalty. The bus and Mazda union demanded to streamline and fix the routes respectively.
Avny Lavasa said that issues concerning army will be taken up with them shortly. She assured to fix the routes for buses in a balanced manner and informed that no new permits will be issued for new bus/Mazda. Also, urged the transporter to ensure good and comfortable buses for long distance travels.
On demand of drinking water facility by the representatives of taxi, 207, 407 and tempo traveler, she said that soon MC will have their own water tanker and supply water on the need basis.
Merchant Association suggested cleanliness mission on a frequent basis. They demanded better water supply in the market area, reduction in cargo fare, encouraging them through recognition or rewards and to levy the penalty against wrongdoers in the business.
She said that administration is already working on cleanliness projects and urged for their cooperation in ensuring cleanliness in and around the market.
Ruth Mary, Assistant FCSCA, Leh raised the issue of shopkeepers selling expiry products during the onset of the season. She asked the executive body to check and stop such practices.
The representatives of the Hotel Association focused on the need to take up projects or measures on the public-private partnership to address environment-related issues. They also raised issues concerning beggars, stray dogs, night patrolling, parking and high altitude related incidents with tourists. DC welcomed their idea of public-private partnership work model and assured to look into the matters.
Interacting with the president and members of IMF, ALTOA and Contractors Association, Avny Lavasa urged them to provide the best of their services. She assured administration support also.
Moses Kunzang, ADC, Rigzin Spalgon, Administrator MC, Delex Namgial, Regional Transport Officer, Tsering Angmo, AD Tourism were also present.