Arhat hall of wisdom inaugurated in Spituk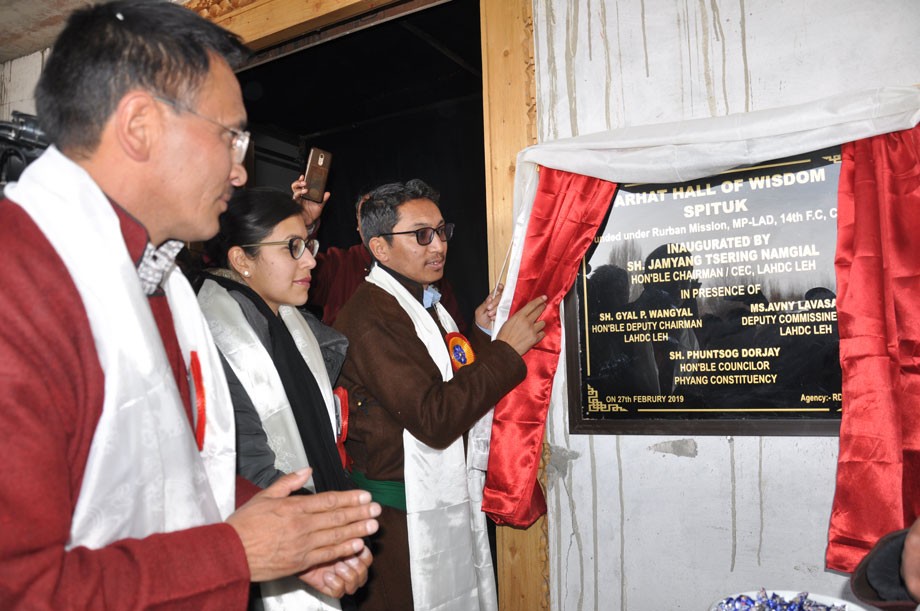 Leh :
A newly built building 'Arhat Hall of Wisdom' was inaugurated by Jamyang Tsering Namgyal, CEC on February 27 in Spituk.
The building was funded under Rurban Mission, MP-LAD, 14th Finance Commission, and Councilor Constituency Development Fund and executed by the Rural Development Department, Leh.
Jamyang Tsering Namgyal reiterated the enormous contributions of the 19th Kushok Gyalsras Bakula Rinpoche towards upliftment of the entire Ladakh region stressing on education in particular. 
He said that the construction of hall comes under the GoI Rurban Mission targeted to deliver integrated project-based infrastructure in the rural areas. Thupstan Chhewang, Former Member of Parliament introduced the scheme. 
He assured help from Hill Council for further completion of the hall.
Talking about the blacktopping of Spituk-Markalaga to Choglamsar via Agling, and street lighting, he said that it will be completed in the summer season. Also, the parking space at Spituk monastery will be completed in a phase manner.
Jamyang Tsering Namgyal also spoke about the importance of organic and sustainable farming practice. He said that the council has plans to provide a market for locally grown vegetables ensuring good health and also benefiting the farmers economically. 
He also spoke about bringing Bhoti language in letter and spirit for its preservation and promotion.
Dr. Tsering Norboo was also honoured on behalf of the entire people of Ladakh for his continuous medical service and being conferred with the prestigious Padma Shri award.
Appreciating a general sense of social equality at Govt. Primary School Spituk Thugue Ldumra, Jamyang Tsering Namgyal stressed for a similar environment in all schools of the district.    
Phuntsog Dorjey, Councillor recounted the funds where former MP Ladakh Thupstan Chhewang had given ₹ 5 Lakh, ₹ 68 Lakh from Rurban Mission, ₹ 4 Lakh from CCDF, and ₹ 9.85 Lakh from 13/14th Finance Commission.  
He also spoke about the installation of 13 hand pumps and distribution of 10 cattle to Spituk village and other major and minor projects.  
Cultural programme was presented by the students.