Anti-Leprosy Day: 'Sparsh Leprosy Awareness Campaign' launches in Leh
Door to door campaign will be carried out in every block of the district till February 28
By
Tsering Dolker
Leh, Feb 01, 2020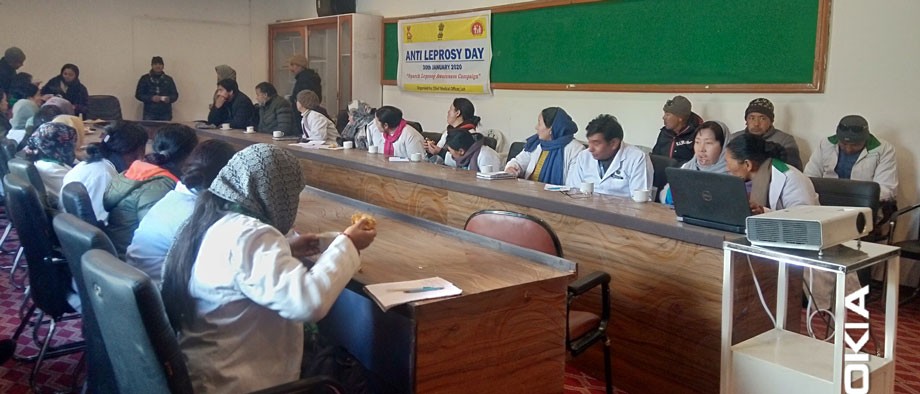 Leh :
Spreading awareness to make Ladakh free from Leprosy disease,  'Sparsh Leprosy Awareness Campaign' was launched on Anti-Leprosy Day on January 30 at the office of the Chief Medical Officer, Leh.
The day also marked a tribute to Mahatma Gandhi on his martyrdom day, who had compassion on Leprosy affected people. 
The 'Sparsh Leprosy Awareness Campaign' will be carried out in the whole district until February 28.
Dr. Tashi Namgyal, District Immunization Officers said that the awareness campaign will be carried out door to door in every block of the district to eradicate leprosy disease. He further informed that the awareness about the disease will be broadcast in radio, banners on prominent areas, involving village health and sanitation department and Panchayati Raj Institution. 
According to Dr. Tashi Namgyal, cases of Leprosy in Leh district  are as follows:
| | | | |
| --- | --- | --- | --- |
| Year | Total cases | Local | Non-Local |
| 2013-14 | 10 | 5 | 5 |
| 2014-15 | 10 | 5 | 5 |
| 2015-16 | 6 | 1 | 5 |
| 2017-18 | 6 | 3 | 3 |
| 2018-19 | 9 | 3 | 6 |
| 2019-20 | 10 | 3 | 7 |
Mother Teresa said, "The biggest disease today is not Leprosy or Tuberculosis, but rather the feeling of being unwanted." Dr. Altaf Hussain, Dermatologist, SNM  Hospital, Leh stressed on treating leprosy infected patients equally. He explained that the Leprosy is a mildly infectious disease caused by a bacillus called Mycobacterium leprae (a relative of TB) and is common in places of poverty, overcrowding and poor nutrition where people's immune systems are not strong to fight the disease.    
He further explained the
symptoms of Leprosy which are; patches or nodules on the skin, mostly on the face, hands, and feet and loss of sensation while touching, walking and moving, as it affects the nervous systems which cause a sensory loss on our skin.
Dr. Altaf urged the people of Ladakh to consult a doctor while having such skin issues because Leprosy is curable when treated on time and not highly contagious. People should also aware non-local and immigrant labor if they find some related skin issues with them.
Later, Dr. Altaf imparted a training session to the medical team for the door to door campaign regarding symptoms and treatment of a Leprosy.
Dr. Nurzin Angmo, District Tuberculosis Officer, Leh; Dr. Diskit Dolma, Block Medical Officer, Leh and Pharmacists of different blocks and health institutions were present.