Advisor to Governor take stock of ongoing developmental projects in Leh
By
Reach Ladakh Correspondent
Leh, Jul 16, 2019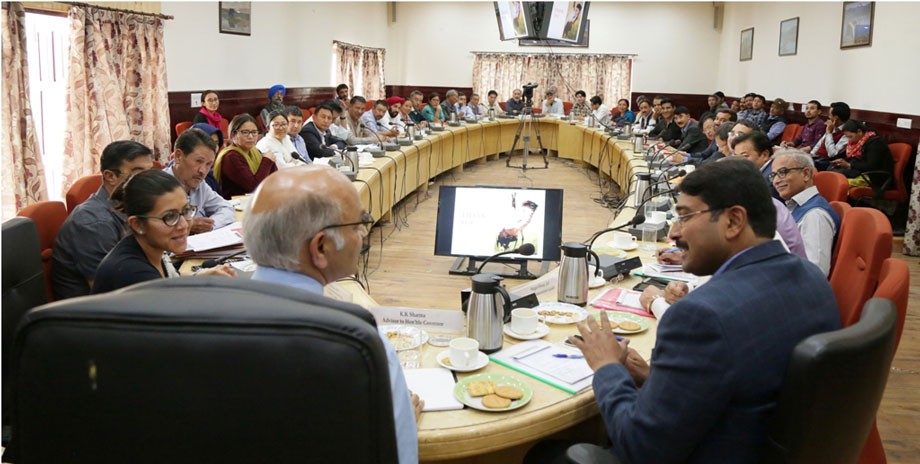 Leh :
Various ongoing projects and major issues concerning developmental works in the district was discussed in a meeting convened by KK Sharma, Advisor to Governor J&K on July 15 at DC office conference hall.
Saugat Biswas, Divisional Commissioner Ladakh, Avny Lavasa, DC, Moses Kunzang, ADDC, Leh, SE PWD, SE PDD, SE PMGSY and all the district officers of Leh district were present.
 Avny Lavasa gave power point presentation on the capex budget outlay, various centrally sponsored schemes, physical achievements during 2018-19, physical status of components under different schemes and detail report on PWD, PHE and Power sector including LREDA. 
The issue of manpower shortage in various departments was highlighted. Request was made to create posts for LREDA considering its vital role in providing electricity to remote villages through solar plants and poor maintenance due to fund and manpower shortage. 
Avny also appraised about the three big projects to be taken under languishing which includes the construction of the open stadium and youth hostel, construction of cold storage with 1000 metric tons capacity and Ice Hockey Rink of which 30% work is completed.  
 
KK Sharma urged the officers to do constructive engagement and try to solve the issues at the local level as much as possible like training locals to run and maintain minor solar plants under Saubhagya and LREDA. He asked them to do a constant follow up for proper procedure in getting technical and administrative approval to get funds sanctioned. 
He stressed on ensuring correct execution of every project with precise expenditure of fund, photographs of work status of the project and its quality assurance failing to which strict action will be followed.
He further urged the officers to complete projects keeping close coordination with allied departments and to take scientific and technical consultation. He gave assurance to extend full support in carrying out the developmental works in the district to benefit the local community at large.