Advisor Sharma inspects Alchi project, grid stations in Leh
By
Reach Ladakh Correspondent
Leh, Jul 15, 2019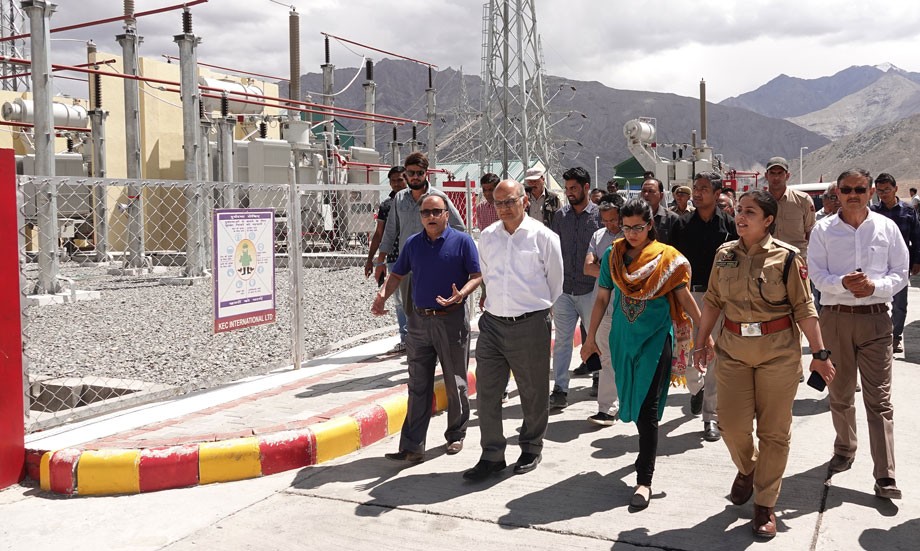 Leh :
Advisor to Governor, K K Sharma-who was on a four-day tour to Ladakh division, took stock of 45MW Alchi Hydel project besides meeting several delegations in Leh district on July 14.
While visiting 45MW Alchi Hydel project, KK Sharma, Advisor to Governor enquired about the capacity and feeding area of the project and urged to work for further improvement on July 14.
 
Briefing the project, General Manager, NHPC said that currently, the project generates 20 to 21 MW against the requirement of 15 MW peak load of the feeding area. He apprised the Advisor that around 10MW of power is being fed to the Grid during day time at present.
KK Sharma also inspected 220/66 KV GIS Station at Phyang and interacted with the engineers of the Power Development Corporation and Power Development Department about the functioning of the power station and transmission line. He also enquired about the potentiality of the future expansion plan under the Alchi Hydel project. 
Ajaz Ahmad Dar, Chief Engineer, Generation/ M&RE Ladakh Wing briefed that Nubra valley is all set to bring under the ambit of Alchi project and the tendering process of the work is under progress.
Avny Lavasa, DC also briefed about few power projects of the capacity upto 5MW which are also coming up shortly through LREDA in Nubra valley.