3-day workshop on 'Happiness Curriculum' held in Kargil
By
Reach Ladakh Correspondent
Kargil, Jun 27, 2019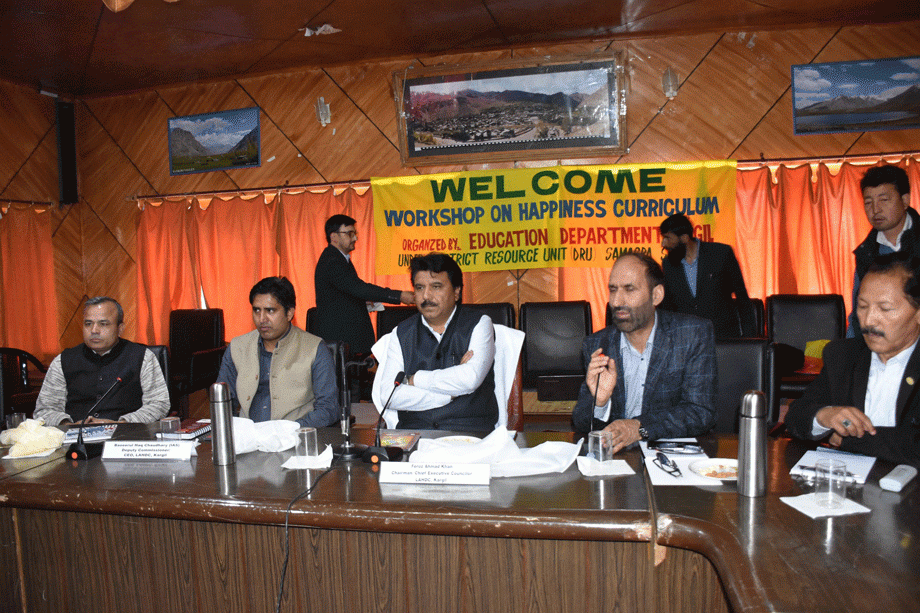 Kargil :
A three-day workshop on 'Happiness Curriculum' was conducted in which 46 teachers from different educational zones participated.  The workshop started from June 24 at Conference Hall, Baroo.
Feroz Ahmed Khan, CEC Kargil talking about strengthening the education sector in the district said that concrete measures are being taken up including the Happiness Curriculum workshop to achieve the targeted goals. 
He informed that Hill Council, Kargil will also sign a MoU with the Delhi Government in near future to carry out similar training and exposure exchange programmes for teachers and students.
 
Considering the success of Happiness Curriculum Model of teaching and learning in Government schools of Delhi, he also added that Hill Council, Kargil is committed to introduce such model in the schools of Kargil district.
Feroz Ahmed said that with the involvement of community and efforts of the Hill Council and District Administration, the standard of education in schools has gone up which is evident from the coming up pilot schools at Lankore, Karith, Beathang, Latoo, Samar Pashkum, Handurman Broq, Shargole, Lankarchey Thang etc. He also appreciated the efforts of District Resource Unit (DRU) in this regard.      
The members of the Happiness Curriculum team from Delhi Government briefed the key aspects of the Happiness Curriculum. 
Baseer ul Haq Choudhary, DC Kargil also appreciated the team for ensuring their participation for the conduct of this unique workshop in the district.  He expressed optimism that the informative sessions during the workshop will go a long way in imbibing the necessary skills and positive attitude among the teachers towards their job. 
He urged the teachers to exude wholehearted enthusiasm and interest in the training sessions.