26th Ladakh Kisan-Jawan-Vigyan Mela held in Leh
By
Tsering Dolkar
Leh, Aug 31, 2019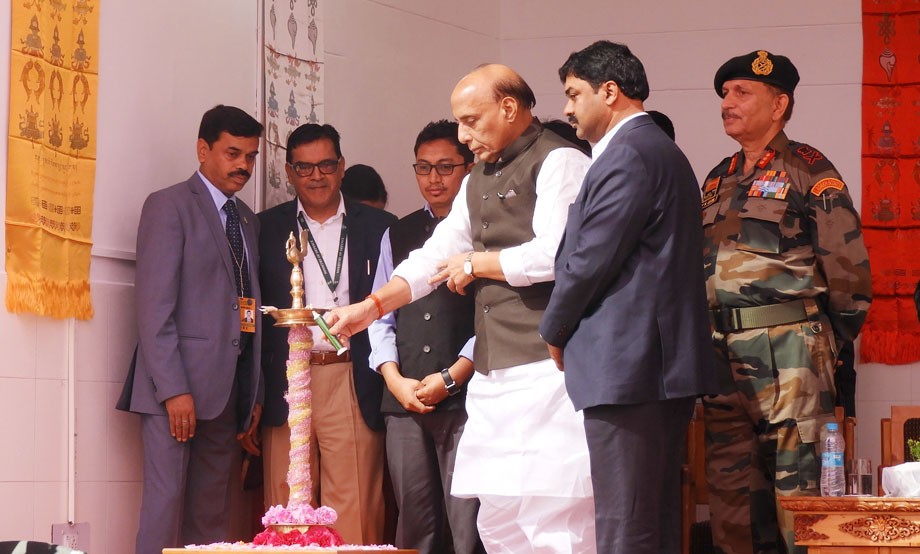 Leh :
 The 26th Ladakh Kisan JawanVigyan Mela was inaugurated by Rajnath Singh, Defense Minister of India on August 29 at Defense Institute of High Altitude Research, Leh.The two day festival was organised by Defense Institute of High Altitude Research (DIHAR).
Rajnath Singh expressed his joy on visiting Ladakh and being part of the Kisan JawanVigyan Mela. 
Appreciating the work of DIHAR-DRDO, he said that the DIHAR is doing wonderful work in this high altitude region to make the fragile eco system strong. 
Talking about the life of the people he said, "It's highly appreciable and proud to see the soldiers securing the nation and farmers cultivating, overcoming all the climatic and geographical challenges of the region."
He also highlighted the importance of bifurcating the J&K state into two union territories which was the commitment of the BJP government to make one nation. 
Rajnath Singh further assured to bring solutions to every challenge that Ladakhi people are facing and stressed on 'organic farming'.  
Reiterating the Prime Minister Speech on 'Single-use Plastic Free' movement, he stressed on for research to recycle waste plastic for making greenhouses. He encouraged people to make UT Ladakh an organic and plastic-free region.
Defence Institute of High Altitude Research (DIHAR), a constituent laboratory of Defence Research & Development Organisation, was setup at Leh in 1962 with the mandate to meet fresh food requirement of the soldiers at high altitude cold desert condition and also to make the region reasonably green. 
Dr. Satish Reddy, Chairman DRDO briefed about the participation of both army and locals in establishing the organisation.  He also talked about the research laboratories established at Changla and Partapur, Nubra. 
He further informed that 10,000 farmers are under DRDO till now and hoping for increase in number by 25,000 in few years.
Jamyang Tsering Namgyal, MP Ladakh said that DIHAR has played a great role for the betterment of socio-economic condition in Ladakh. Out of 10,000 tons of food supply; 5,000 tons are produced by the locals. He further briefed about the Mission Organic Development Initiative (MODI) which aims to make Leh district fully organic by 2025.
Later, Rajnath Singh took stock of the varieties of vegetables and fruits grown in the farms camels, poultry farming and various other exhibitions of different projects and research.
Thupstan Chhewang, Former MP; Gyal. P Wangyal, CEC, Leh, A.K Singh, Director General Life sciences DRDO, Y.K Joshi, Lieutenant General, DRDO and many delegates were also present during the occasion.