25 monk-cyclists spread message of 'Eat right India' in Leh
By
Reach Ladakh Correspondent
LEH, Oct 30, 2018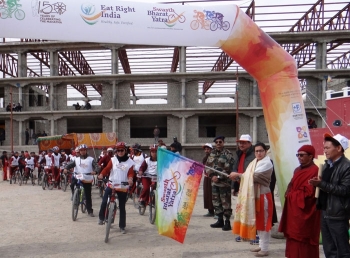 LEH :
A total of 25 monk cyclist from Hemis monastery took part in the cycle rally on the second day of 'Eat Right India' movement under 'Swasth Bharat Yatra' on October 17 from NDS Stadium to Hall of Fame.
The rally was organised by Food Safety and Standards Authority of India under the Ministry of Health and Family Welfare. The programme was conducted under the direction of Dr. Abdul Kabir Dar, Commissioner, Food Safety J&K.
Avny Lavasa, DC, Leh flagged off the rally and congratulated the organising department for bringing up the concerned issues which are very important for the development of the country.
She said that it is crucial to discuss the problems of malnutrition, obesity and other health related issues based on our unhealthy way of living.
"Compared to other places, where the fast-moving world binges on packaged, processed and junk food, Ladakh still have a healthy way of eating food. The use of chemical fertilizers is minimal and people stress on organic farming and products. It is good to start awareness so that the harmful effects of junk food and unhealthy way of food eating can be understood and ways can be framed to monitor them," she added.
She further wished successful completion of the 'Eat Right India' movement that is scheduled to end on January 27, 2019, at New Delhi.
Dr. A. C. Mishra, Joint Director, FSSAI Government of India informed that the Swasth Bharat Yatra is a cycle rally where cyclists will travel with health messages from 6 different locations of the country. More than 7,500 volunteer-cyclists will cover about 18,000 km covering almost all regions of the country to spread the message of healthy food habits.
They will also conduct various other programmes under the 'Eat Right India'.
Tamchos Gyurmet, Assistant Controller Food, FSSAI Leh also spoke on the occasion.
His Eminence Tsamthrul Rinpoche, Commanding Officer NCC Col. A.M. Shinde, and other dignitaries were also present during the function.