18 days Entrepreneurship Development Programme EDP concluded
By
Rigzin Wangmo
LEH, Nov 06, 2018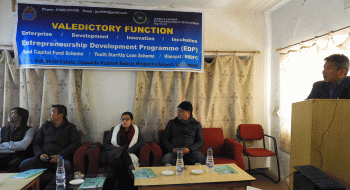 LEH :
The 18 days Entrepreneurship Development Programme EDP, the National Minority Financial Development Corporation term loan run under Himayat concluded on November 30 at JKEDI campus.
A total of 30 students were present in the valedictory function. They were taught about the simulation module and the concept of business.
Avny Lavasa, DC congratulated the students for the completion of training and said, "Most of the people try to get a government job but many of you here have gear up to start up something of your own which is worth appreciating. There will be many challenges but if you have a broader picture, you can contribute to economic development".
"Ladakh has many potential like Seabuckthorn, Apricot, Mushroom and so far, people have not explored fully because people still think on a smaller scale. So, you can be the agents of change and explore the unexplored potential and capitalizing it is very much possible", she said.
She further added that entrepreneurs provide employment to others and can be the source of motivation. Many things can be learned which is very rare in the government job and in a government job after 5 years people become lethargic while the entrepreneurs will be more confident and in a position to advise others.
Dr. Dorjay Namgyal, Head Krishi Vigan Kendre spoke about KVK forum. He urged the students to take an interest in agriculture entrepreneurship.
Informing about the enhancement of the seed capital, Dorje Wangchuk, JKEDI said that at present for 10 2 , ₹ 4 Lakh, graduates ₹ 5 Lakh, postgraduate ₹6.5 Lakh and for a professional ₹ 10 Lakh is provided.
The process is 21 days or 18 days entrepreneurship development program after which they prepare the DPR and conduct the pre-sanction survey. There are legal formalities and disbursal and the post-sanction survey to check out whether or not the unit is successfully established.
He also informed that under seed capital YSLS candidates of only 10 2 and above and the age limit is 18 to 40 years are taken. Cases are appraised on basis of detail project report which is prepared by J&K Entrepreneurship development institute.
One batch each in November and December will be trained under the seed capital YSLS scheme.