14-day theatre workshop starts in Leh
Authenticity is the key to become an artist rather than imitating someone else's art, says Mipham Otsal
By
Rigzin Wangmo & Dawa Dolma
Leh, Feb 20, 2019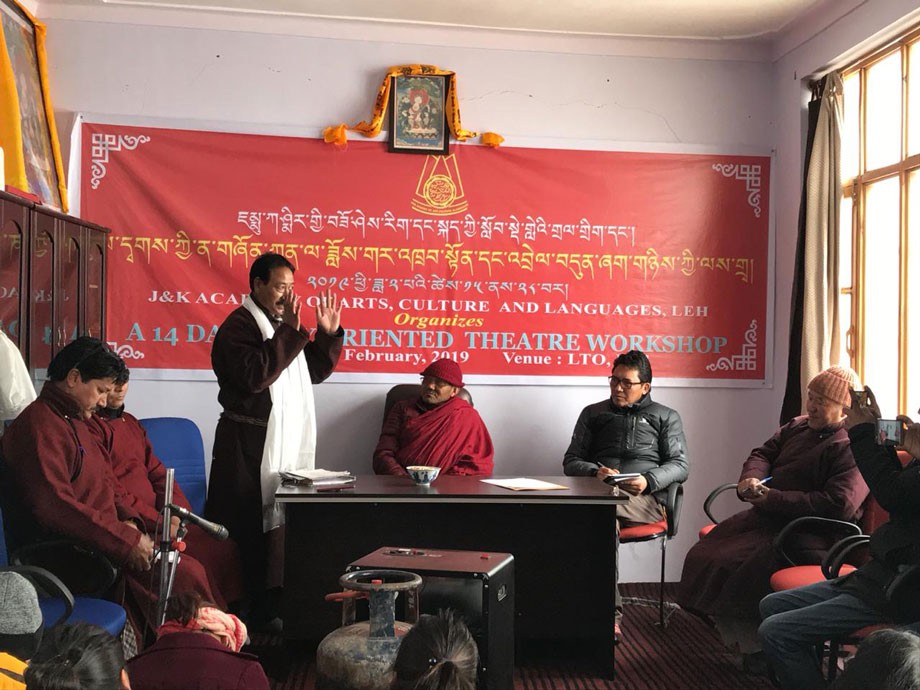 Leh :
A 14-day play oriented theatre workshop was initiated by Jammu and Kashmir Academy of Arts, Culture and Language from February 15 to 28 at Ladakh Theatre Organization hall.
The workshop is intended to produce promising artists and theatrical students in the field of drama, play and movie. The workshop is conducted by Mipham Otsal. 
Ven. Lobzang Nyantak, Councillor, Upper Leh, chief guest asserted the importance of reviving Bhoti language as it is an essential part of Ladakhi culture, tradition, and arts.  He said theatre has greatly contributed to preserving the values of culture and traditions thereby building a cultured society.
In the wake of external entertaining means causing a threat to local cultural values Lobzang Ven. Nyantak strongly insists on Ladakhi leaders and policymakers to prioritize in safeguarding Ladakh distinct culture rather than giving importance to infrastructure development. 
Mipham Otsal, Director LTO, Leh emphasized that the main objective of organising this workshop is to bring out arts within an individual and to transform oneself into an artist and a theatre lover. He focused on authenticity as the key to becoming an artist rather than imitating someone else's art. 
He further spoke about the need for sincerity, dedication, commitment and discipline to become a genuine artist since; there has been no improvement in the field of theatre in Ladakh since 1982.
Dr. Thupstan Norbu, Assistant Editor, J&K Culture Academy, Leh said, "Theatre is a medium of spreading information, bringing changes and a source of entertainment." 
He also highlighted theater as a part of the ordinary aspect of knowledge and Buddhist education. 
Tsetan Angchuk, Senior teacher, Department of Education stressed on lack of confidence among students and youths of Ladakh. He believed the workshop will be a perfect platform to boost and build the confidence of Ladakhi youths.
 
He also mentioned that being a student of Mipham Otsal (a master in theatrical work), students can expect to see growth while taking part in this wonderful opportunity and requested students not to hesitate to ask questions. 
Tsering Wangdus Lonpo, writer/translator was also felicitated for receiving state award. 
Tsering Wangdus urged participants to consider the workshop important to experience transformation within yourself. He also advised students to advance their language skills particularly Bhoti during the workshop. 
Tsering Yangchan, student cum LTO member sharing her experiences suggested aspirant artists to join the training to advance their skills.