Two-day Dosmoche festival held in Leh
By
Kunzang Chosdol
LEH, Feb 16, 2018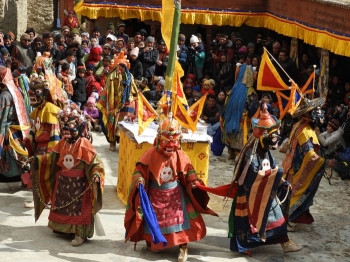 LEH :
One among the most popular religious festival of Ladakh, 'Dosmoche' was celebrated with full of religious fervour and zeal, in Leh on February 13.
Sacred mask dance 'Chhams' was carried out in the courtyard of old monastery below the Leh Palace.
This year, the monks of Hemis monastery performed the sacred mask dance, whereas 'storzok' or rituals effigy was prepared by monks of the Lingshed monastery. However, as usual, the monks of Takthok monastery prepared the elaborated 'DHOs' or thread crosses.
The two days festival attracts thousands of people from all region of Ladakh. Along with the sanctity of mask dance and rituals, there are lots of entertaining things and people considered this time for shopping. Leh market was a centre of attraction with people enjoying shopping, different types of cuisine, Lotteries, Tambola, Lucky draw and many more.
Lopon, Nawang Rigzin, Hemis monastery talked about the masks dance during the first day of the festival and said, "The first-day witness three parts of mask dance, Hatuk, Tsamchot and Dorje Lobon-Serkhem pa, each mask dance represent different meaning."
Lopon, Shatup Phandey, Takthok monastery said, "The rituals of dosmoche are performed to cast away the evil spirit, war and diseases in the society and to bring peace and harmony among the people,"
Sonam Zangpo, Nambardar, Leh, "The monasteries of Leh district take turns to perform mask dance during the festival. Earlier during the reign of King only two monasteries Phyang and Matho used to perform it but later after the end of king's rule, all monasteries participate and perform it turn wise. There are 16 monasteries, but 'dhos' has been prepared by the monks of the Takthok monastery from the beginning that follows till today."
The overall supervision of the two days festival was done by Leh Phu- Dho which consists of villages from Gangles to Skara.
On the second day of the festival, the ceremonial offering of 'storma' ritual effigy was burned down symbolizing to evade away all the evil spirit in the society and to bring peace and harmony among the people.